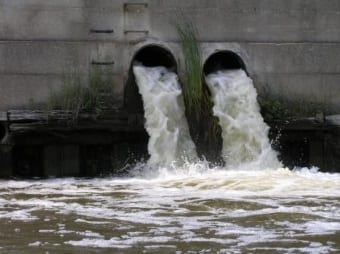 A sanitary sewer facility in Essex overflowed in the Back River over the weekend.
At 7 p.m. ET on Saturday, July 16, Baltimore County's Bureau of Utilities received an alarm indicating that power had been lost leading to the Essex Sewage Pumping Station, located at 328 Riverside Drive.
The power outage, which subsequently halted the station's operation, was due to a severe thunderstorm passing through the area Saturday evening.
Crews were immediately dispatched to the site in order to connect a temporary, emergency power source to the station's pumps. Before the connection was completed, the power was restored at 9:12 p.m. At that point the Essex Pumping Station resumed operation. During the two-hour power outage, 751,185 gallons were discharged into Back River.
The Essex Pumping Station which has been renovated and modernized in recent years is served by two electrical feeds to reduce or prevent a system failure. Both feeds were interrupted during the storm.
The Baltimore County Department of Health will monitor water quality at the sites and issue water contact advisories if necessary