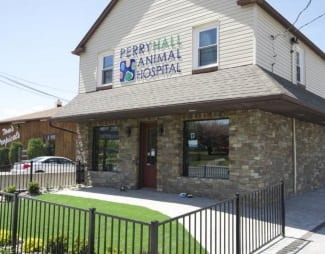 The Perry Hall Animal Hospital will demolish a decrepit building in downtown Perry Hall, expanding its parking area and improving the landscaping near Belair Road and India Avenue. An addition to the existing animal hospital is also in the works to create additional medical treatment space and expansion of services.
"The existing building on the corner of India and Belair Road has fallen into disrepair, and the expanded parking area will help our customers with access to the hospital," commented Michele Deschu, Co-Owner and Practice Manager. "The Perry Hall Animal Hospital has been recognized by Baltimore County for its landscaping, and we will implement a robust landscaping package surrounding the parking area which will also include a small area for pets."
The longtime Perry Hall business, established in 1972, is taking advantage of benefits in the commercial revitalization district created by the Baltimore County Council. That district offers businesses special tax benefits and services. The Perry Hall Animal Hospital used the Architect-on-Call program to design the blueprints for the parking expansion, as well as a previous project completed in 2014 which included a new courtyard in the front of the hospital.
"The Perry Hall Animal Hospital is precisely the type of small business we wanted to help with the revitalization district," commented Councilman David Marks, whose legislation created the zone.