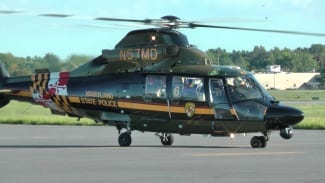 A marshy area on the east side of the Bush River became the unintended campsite of a stranded jet ski rider beginning the afternoon of June 5, 2016 – that is, until the victim was finally located by a Maryland State Police helicopter aircrew and rescued by allied agencies on the morning of Monday, June 6th.
A concerned spouse alerted officials in Harford County at 5:15 a.m. Monday that her husband had departed from a boat ramp in the Bush River Sunday afternoon and had not returned home. Maryland Natural Resources Police located the victim's truck and jet ski trailer in the parking lot of Flying Point Park. An overwater search coordinated by Coast Guard Sector Maryland-National Capitol Region and supported by the Trooper 1 helicopter crew and vessels from the Coast Guard, Maryland Natural Resources Police and Aberdeen Proving Ground's Police Department commenced.
At about 8:30 a.m. on Monday, the victim was located by the State Police helicopter crew and was subsequently rescued by responding public safety vessels. The victim was not injured, but fatigued after weathering the thunderstorms and rain that passed through Harford County on Sunday evening. The jet ski he was riding suffered mechanical failure which stranded him throughout the night.
As this summer's boating season starts to ramp up, the Coast Guard stresses the importance of preparedness, which directly applied to this case. During the debrief, the survivor said if he would have checked the weather, had a reliable means of communication, or told someone where he was, he would have prevented the situation entirely, or have been found much sooner.