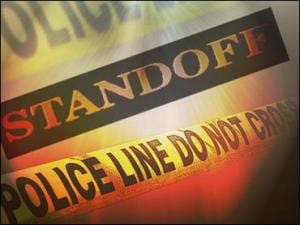 A police officer assigned to the White Marsh precinct has been hospitalized after being shot while shooting at deputies outside his home on Thursday.
At approximately 12:10 p.m., deputies from the Harford County Sheriff's Office responded to the 2000 block of Stratton Court in Bel Air.
The officers were dispatched on the report of a suicidal subject who had reportedly been drinking heavily and had fired shots during a domestic dispute.
The subject was identified as James L. Ward, 42, a Baltimore County Police Officer assigned to the White Marsh precinct.
Deputies established a perimeter around the residence and moved to safeguard nearby residents.
At about 2:40 p.m., when phone conversations with the suspect had ended, Ward shot multiple rounds in the direction of deputies who were taking cover in the Harford County Sheriff's Office Tactical Rescue Vehicle. Two deputies fired upon the suspect, injuring him. Ward exited from the home and was arrested without further incident. No deputies or civilians were injured during the incident.
Medics from the Bel Air Volunteer Fire Company, who were staged in the area, immediately began to render first aid. Ward was then transported by Maryland State Police chopper to Shock Trauma. His injuries are considered serious but not life threatening.