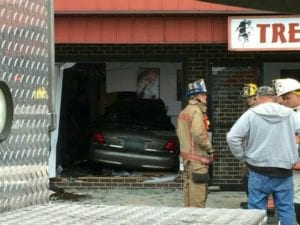 Emergency crews were on the scene in Dundalk Saturday afternoon after a car smashed into a popular salon.
Shortly after 1:30 p.m., rescue personal responded to the Trendz Salon on German Hill Road.
Nine people were injured in the crash and at least one person had to be extricated from underneath the vehicle.  A medevac chopper was called to the scene.
The Baltimore County Crash Team is currently investigating.  No injuries were said to be life-threatening.