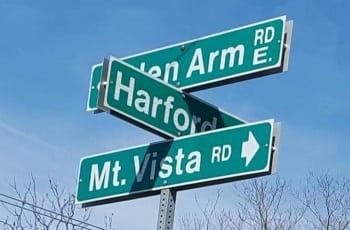 UPDATE: The roundabout has been completed and is now open to traffic.
Original story below…
——
For the past decade, the Maryland State Highway Administration has been discussing the construction of a roundabout at Harford Road and Mount Vista Roads to improve safety at this intersection. The State Highway Administration anticipates awarding the contract and giving the contractor notice to proceed this spring, according to Baltimore County Councilman David Marks.
BGE will begin the relocation of overhead utilities in early April. The SHA contractor will then mobilize and begin construction activities while the utility relocation is ongoing.
The new roundabout will be constructed in several phases. Harford Road will remain open to traffic throughout construction; however, detours of Mount Vista Road and Glen Arm Road are needed. In Phase 1, Mt. Vista Road will be closed and detoured to allow construction of the improvements on the east side of MD 147. Phase 1 will be constructed during the 2016 construction season.
When construction activity resumes in the spring of 2017, the State Highway Administration anticipates beginning Phase 2 of the project which involves reopening Mount Vista Road, shifting Harford Road traffic onto the newly constructed roadway and then closing and detouring Glen Arm Road. Phase 2 includes construction of the improvements on the west side of Harford Road and is expected to be about four months duration.
When Phase 2 is complete, Glen Arm Road will be reopened. Mount Vista Road will then be closed and detoured to allow for Phase 3 construction activities which include construction of the roundabout central island, median islands and curb and gutter. The duration of Phase 3 is expected to be about two months.
When Phase 3 activities are complete, Mount Vista Road will be reopened. Phase 4 construction activities will then begin and include pavement grinding, final surfacing, and installation of permanent pavement markings and signing. The project also includes landscape planting which will be installed during the appropriate planting seasons.
The roundabout is expected to reduce the number of vehicular crashes at this busy intersection. The intersection currently has an overall Level of Service (LOS) rating of F in the morning and evening peak hour. Construction of the roundabout is expected to improve the overall intersection LOS to a B rating in the morning and evening peak hours. The roundabout project includes installation of a closed drainage system and storm water management facility to improve roadway drainage conditions; overhead lighting; signing; pavement markings and landscaping.
"I would like to thank the Seventh District state legislators for their work in advancing this project: Senator J.B. Jennings and Delegates Kathy Szeliga, Rick Impallaria, and Patrick McDonough," said Councilman Marks. "The project began years before I represented Kingsville. Many thanks to SHA for its support and hard work as well, and the Greater Kingsville Civic Association for hosting many meetings on this project."