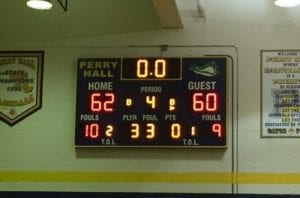 History was made at Perry Hall High School on Friday night.  The Gators edged out Springbrook 62-60 in the 4A North Final.
The Blue Devils were after their 20th trip to College Park, but came up empty-handed.
Junior forward Darrell Green made the last bucket for the Gators with 4.3 seconds remaining in regulation. A Springbrook guard dribbled down the court and attempted a layup, which would have been the game-tying shot, but missed. The Gator team stormed the court in celebration.
The Gators will go up against Eleanor Roosevelt on Thursday evening at 7 p.m. in College Park, according to the Baltimore Sun.
More in the video below from YouTube user shelleyoliver1019.