TOWSON, MD—Five members of the Baltimore County Council have signed a letter urging the school board to replace Superintendent Dr. Darryl Williams.
In the letter, the councilmembers cite constant issues found in Baltimore County Public Schools such as transportation issues, school buses running late, and low student and teacher morale.
The letter tp Baltimore County Board of Education Chair Julie Henn was signed by Cathy Bevins, Todd Crandell, Wade Kach, David Marks, and Tom Quirk. Council Chairman Julian Jones says he is aware of the letter but did not sign it, according to WBAL.
The letter notes that the various problems cited in the report existed before the pandemic.

"We recognize that the last two-plus years have posed significant challenges," the letter said. "We have all been affected by the pandemic and its direct health consequences and the vast interruptions to our normal way of life. Nonetheless, BCPS has been tasked with perhaps the highest and most urgent calling—the care, safety, and education of our children. But instead of rising to the challenge, BCPS leadership has struggled."

Additionally, communication from William's office "has been infrequent and inconsistent," according to the letter.

"Instead of having regular and meaningful consultations with us to discuss issues and solutions to achieve success in the school system, the Superintendent and his leadership team has been, for the most part, a silo," the letter states. "Each time over the past three years we have requested and been granted meetings or briefings from the Superintendent, the answers to our questions and concerns have been mostly 'coach-speak' or scripted, with very little substance."
The full letter can be viewed below: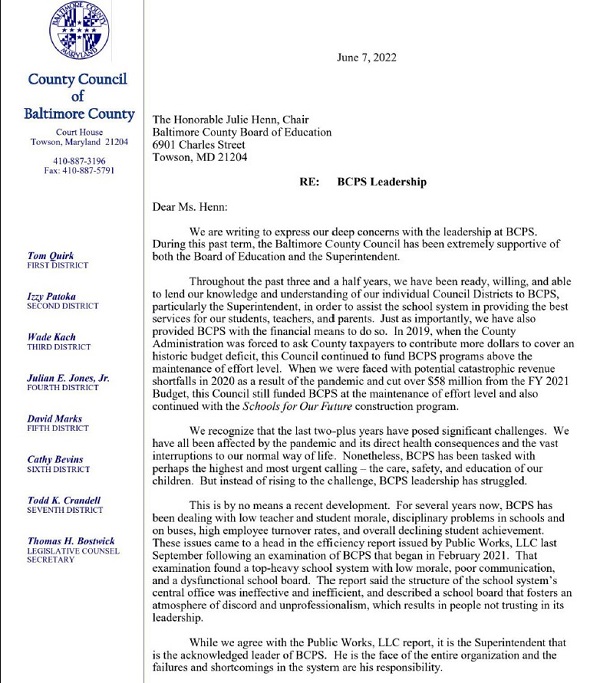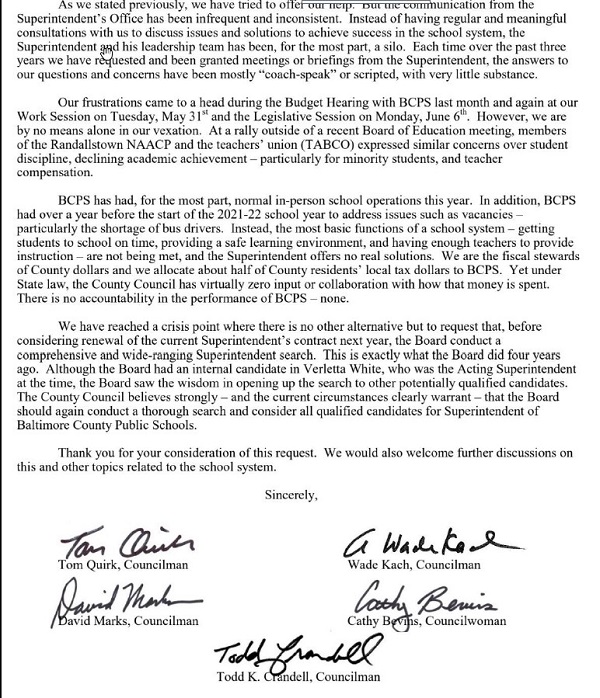 Facebook Comments