UPDATE: View the latest NottinghamMD.com zip code reports here.
Original story below…
——
NOTTINGHAM, MD—The Maryland Department of Health on Monday reported that COVID-19 hospitalizations in the state fell to their lowest level since April 10, and the statewide positivity rate fell again as well.
As of Monday morning, there have been 58,404 cases of novel coronavirus in Maryland.  The statewide positivity rate is now at 7.38%, a decrease from Sunday's 7.63%. Baltimore County's positivity rate stands at 6.33, a decrease from Sunday's 6.56%.
There have been 2,653 related deaths and 979 individuals are currently hospitalized…a decrease of 24 hospitalizations since Sunday.  This marks the first time that hospitalizations in Maryland have been below 1,000 since April 10th.
There have been 313,099 negative test results. Of Maryland's 2,653 deaths, 1,386 (more than 50 percent) have been in congregate facility settings (nursing homes).
Baltimore County has confirmed 6,814 COVID-19 cases and and 371 deaths while Harford County has confirmed 961 cases and 50 deaths (editor's note: for the sake of accuracy, "probable" deaths are not included in the totals below).  Of Baltimore County's 371 COVID-19 deaths, 277 (more than 70%) have occurred within nursing home communities.
Case breakdown by zip code in NottinghamMD.com's coverage area of northeastern Baltimore County and southern Harford County:
21040 (Edgewood) – 141 cases
21047 (Fallston) – 29 cases
21057 (Glen Arm) – 23 cases
21085 (Joppa) – 74 cases
21087 (Kingsville) – 15 cases
21128 (Perry Hall) – 44 cases
21156 (Upper Falls) – 0 cases
21162 (White Marsh) – 17 cases
21206 (Overlea) – 467 cases
21220 (Middle River) – 347 cases
21221 (Essex) – 325 cases
21234 (Parkville/Carney) – 492 cases
21236 (Nottingham) – 193 cases
21237 (Rosedale) – 338 cases
Previous zip code reports can be viewed here.
Story continues below
On Friday evening, Maryland entered Stage Two of Governor Larry Hogan's Maryland Strong: Roadmap to Recovery.  The executive order mandating the closure of non-essential businesses was lifted and non-essential businesses began to reopen.
Baltimore County moved into Stage Two, as did Harford County.
"Maryland has now completed 435,363 COVID-19 tests, and the statewide positivity rate has fallen to 7.38%—a more than 72% drop from its peak on April 17," said Governor Hogan on Monday. "The number of total current hospitalizations has dropped below 1,000 for the first time since April 10."
Additional charts and data can be viewed below.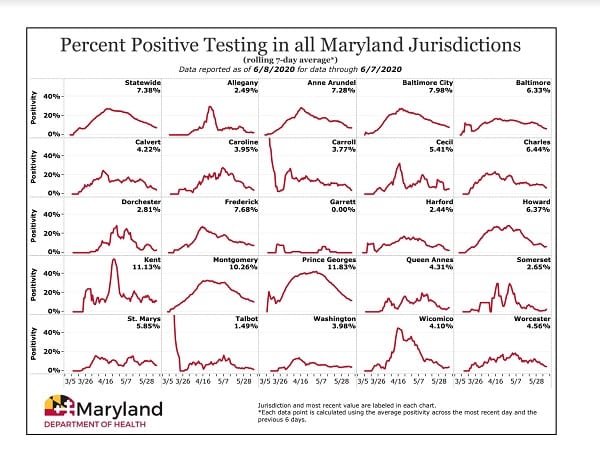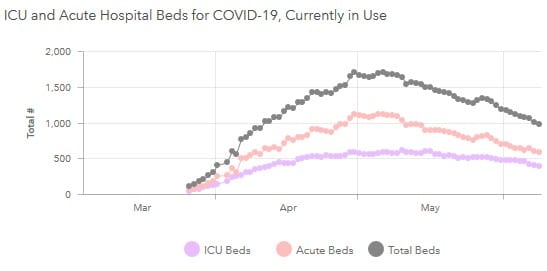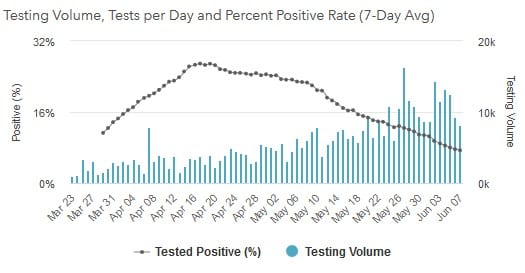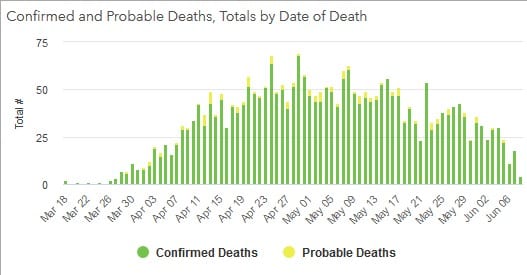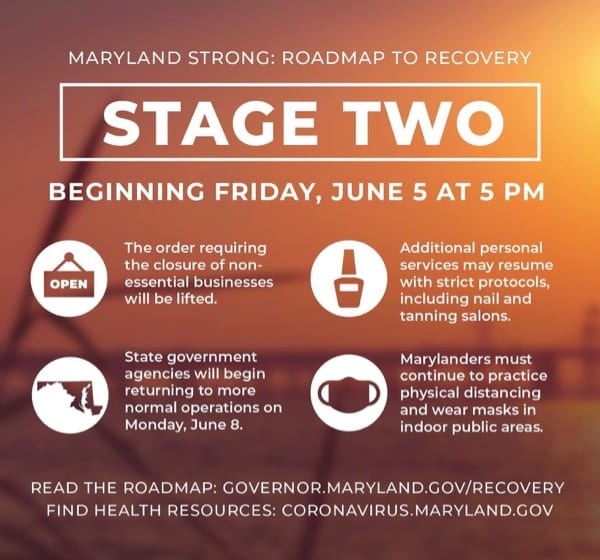 Facebook Comments