PERRY HALL, MD—Baltimore County Police Officers are wearing mourning bands on their badges on Thursday in memory of a fallen hero.
On May 21, 2018, Officer Amy Sorrells Caprio, 29, responded to a call for a suspicious vehicle with multiple suspicious subjects walking around homes on Linwen Way in Perry Hall/Nottingham.
When she arrived at the scene and located the vehicle, she exited her police car and ordered the driver to exit his vehicle.
Instead, the driver accelerated and fatally struck Officer Caprio.
Officer Caprio was nearly a four-year veteran of the Baltimore County Police Department and was married. The death of Officer Caprio marked the first female line-of-duty death in the Baltimore County Police Department's history.
"Today, we remember Officer Amy Caprio for the ultimate sacrifice she provided," said Councilman David Marks on Thursday. "That afternoon and its consequences will be one of those incidents I will probably always remember as a Councilman- the bravery she showed, the solidarity of neighbors afterward."
"Today, we remember Officer Amy Caprio, honor her life, and recognize her service and sacrifice for Baltimore County," said County Executive Johnny Olszewski. "My heart goes out to her family, loved ones, and the (police) community. She will never be forgotten."
Advertisement
To date, ten officers have lost their lives in the line-of-duty in Baltimore County.
A playground is set to be constructed at Gunpowder Elementary School in memory of Officer Caprio.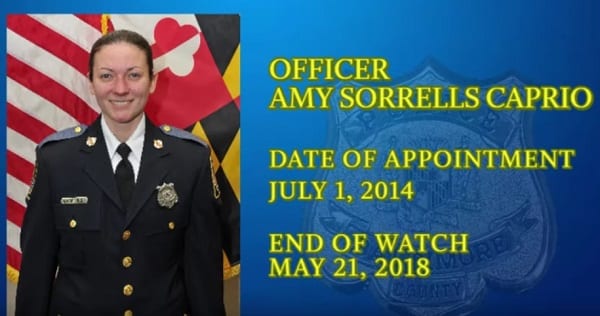 [Featured image via Councilman David Marks]
Facebook Comments