ESSEX, MD—Three Baltimore County Public Schools students, including a student at Eastern Technical High School, have been elected officers of the Maryland Future Business Leaders of America (FBLA) for the 2020 – 2021 school year.
Kathy Yao of Dulaney High School was elected state president. She is the state vice president for the current school year. Vinay Khosla, also of Dulaney High, was voted state secretary-treasurer. Neha Mupparapu, of Eastern Tech, was chosen as the Region 2 vice president.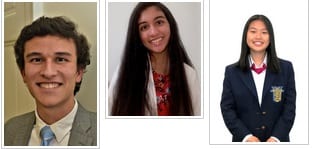 FBLA is an organization for business and computer science students. Through regional, state, and national conferences, students learn leadership, teamwork, and philanthropic skills and compete in a large variety of business and computer science related events. Throughout the year, FBLA members engage in career preparation and connect with business professionals.
Advertisement
This year, Baltimore County held the regional FBLA conference at Dulaney High School and had over 750 students in attendance. Over 250 of those students attended the state level conference in Baltimore City.
Nearly 900 BCPS students participate in FBLA. There are chapters at the following 22 high schools: Catonsville, Chesapeake, Dulaney, Dundalk, Eastern Technical, Franklin, Hereford, Kenwood, Lansdowne, Loch Raven, Milford Mill Academy, New Town, Overlea, Owings Mills, Parkville, Patapsco, Perry Hall, Pikesville, Randallstown, Sparrows Point, Western School of Technology, and Woodlawn.
Facebook Comments