TOWSON, MD—Of the county's 159 public schools evaluated in the 2019 Maryland Report Card, 85.5% received 3, 4, or 5 stars, according to data released today by the Maryland State Department of Education.
"While most of our schools performed well in comparison to schools across the state, every one of our schools has the potential for greatness," said Superintendent Dr. Darryl L. Williams. "The Maryland Report Card is one of many sources of data that we use to guide ongoing improvements that will raise the academic bar, close gaps, and prepare each of our kids for a successful future. For example, every school is using a data-based Community School Progress Summary, which is a streamlined version of the school progress plan, to highlight this school year's focus areas for instruction and professional learning. Through my forthcoming budget proposal, I will identify systemwide priorities for student learning and growth."
The state's accountability system identifies a star rating, percentile rank, and percent of total earned points for each evaluated school.
These scores reflect school performance on multiple components.
For elementary and middle schools, the system includes academic achievement, academic progress, progress in achieving English language proficiency, and measures of school quality and student success.
For high schools, the accountability system includes academic achievement, graduation rate, progress in English language proficiency, readiness for postsecondary success, and measures of school quality and student success.
Detailed report cards for all BCPS schools and for the school system are available on the state's Report Card website.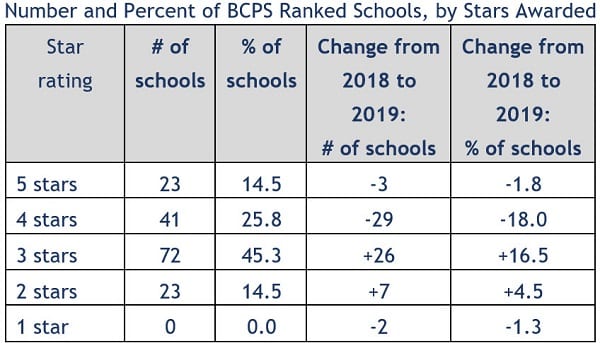 Facebook Comments