NOTTINGHAM, MD—It's not just you.  Marylanders really do get a lot of unwanted phone calls, and there's new data to back it up.
Unwanted calls have infiltrated the daily lives of Americans, making up 66 percent of Federal Communications Commission complaints in 2018.
In a new study, the team at Security.org analyzed the FCC's Consumer Complaint Open Data going back to 2015 to learn complaint trends over time across all state.
Maryland ranks No. 1 for the state with the most FCC complaints in every category (734.8 per 100K residents).
Maryland also tops the list, ranking at No. 2 for the state with the most unwanted calls (351 per 100K residents). That represents a 13.5 percent increase in 4 years.
Additionally, Maryland is the state with the fourth-highest amount of privacy complaints (16 per 100K residents).
So what can citizens do?
Besides offering consumers tips for dealing with unwanted calls, the FCC also recommends listing your telephone number on the National Do Not Call Registry. While it's not foolproof, it prevents lawful marketers from taking advantage of your phone number. By visiting the FCC's website, you can also find out more information on the newly released report regarding illegal robocalls.
View the full report here, which has some helpful tips on dealing with consumer complaints.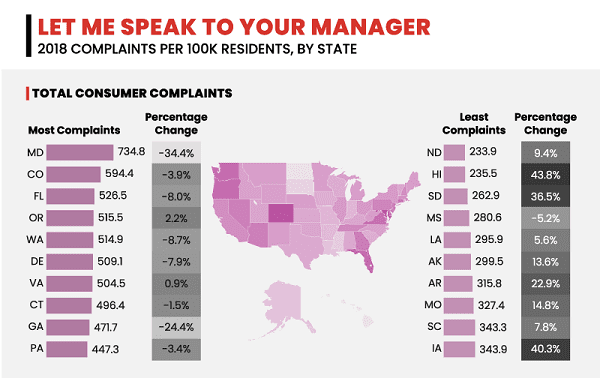 Facebook Comments