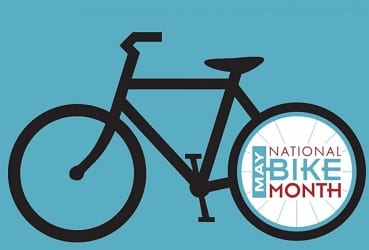 TOWSON, MD – Baltimore County Government and Commuter Connections, in partnership with the Baltimore Metropolitan Council, is sponsoring a "Bike to Work Day" pit stop event on Friday, May 17, 2019 from 7 a.m. to 9 a.m. on the Washington Avenue side of the Historic Courthouse in downtown Towson.
People who live and/or work in Baltimore County are invited to participate.
The event is free and pre-registration is encouraged. Bike riders who register by May 15 at BiketoWorkMd.com will receive a complimentary t-shirt and the chance to win other prizes. Event refreshments will be provided by the Baltimore County Employees Federal Credit Union.
There are seven "Bike to Work" pit stops located in and around Baltimore County, offering refreshments, giveaways and networking opportunities to bike-riding commuters. Locations include:
Towson – Historic Courthouse, 400 Washington Avenue
Catonsville – Catonsville Fire Station 756 Frederick Road
CCBC Catonsville – 800 South Rolling Road
CCBC Essex – 7201 Rossville Boulevard
CCBC Dundalk – 7200 Sollers Point Road
Timonium – REI, 63 West Aylesbury Road
Woodlawn – CMS Headquarters, 7500 Security Boulevard
"Bike to Work Day" is celebrated each May around the country during National Bike Month to promote bicycle commuting as a healthy option, and enhance awareness of its safety and environmental benefits. The event helps to increase public awareness of the rules of the road for cyclists, pedestrians and motorists, while highlighting the need to improve bike lanes and safety measures. Events throughout the Baltimore region feature group convoy rides, bicycle tune-ups, riding challenges and more.
"Our participation in 'Bike to Work Day' is a great way to introduce people to the idea of riding their bikes to work," said Baltimore County Executive Johnny Olszewski. "In addition it highlights the many benefits of bike riding, like exercise, and it also calls attention to opportunities to enhance biking safety and create an environment conducive for walking and bicycling."
The Baltimore County Pedestrian and Bicycle Advisory Committee (PBAC) oversees a comprehensive program for improving the County's roadways for pedestrians and bicycle riders. Information on the County's pedestrian and bicycle planning and implementation programs can be found on the County website.
Facebook Comments