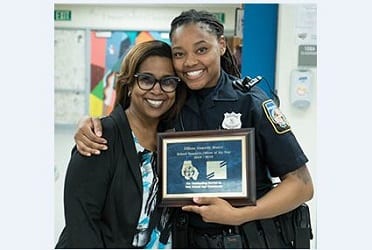 TOWSON, MD – When DJ Moore became a police officer, she never envisioned being seen as a "transformational leader" at a high school – but that is how Overlea High School Principal Monica Sample describes her. That is why Officer Moore has been named the high school level School Resource Officer of the Year for Baltimore County Public Schools.
BCPS administrators surprised Officer Moore with the news today. (Officer Mellos at Pikesville Middle received the middle school level award yesterday. The elementary level SRO of the Year award winner will be determined in June.)
According to Sample, Officer Moore is Overlea High's "biggest cheerleader" and someone who "demonstrates commitment, loyalty, empathy, discipline, and diplomacy" and interacts with students "in a positive and restorative manner."
"Many female scholars," Sample wrote, "consistently approach Officer Moore for guidance, support, and mentorship with social-emotional issues. She is viewed by many as an honorary mother who represents confidence, optimism, and hope."
Three of the many ways that Officer Moore contributes to the school culture are by serving as co-coordinator of the female mentoring Group IT Girls, as a member of the Overlea student support team, and as a member of the Restorative Practices team. According to Sample, Officer Moore has "conducted over 100 restorative conferences," thereby preventing numerous physical altercations in the school and community.
"SRO Moore is non-judgmental in her role and gives each scholar endless opportunities and support despite their disciplinary histories. She inspires and gives hope to our scholars that each day is a new day and that our scholars are all capable of being model citizens who will make a great impact on society."
K. Hawthorne-Jones, clinical school social worker and student mentoring coordinator, wrote that Officer Moore "has immersed herself in the culture of the school seamlessly. She has built strong relationships with students and staff. She knows how to be confident, firm, and compassionate at the same time. She believes in the good in people first and extends mercy when appropriate."
Hawthorne-Jones concluded her recommendation: "With the addition of Officer Rawleigh, Overlea is grateful to have the best SROs a school could have. They work well together and balance one another out. You would never think that [Moore] has only been doing this job for a little over a year. She has hit the ground running and hasn't turned back."
Facebook Comments