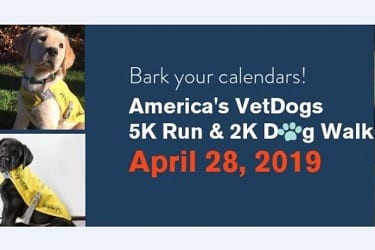 NOTTINGHAM, MD – Bark your calendars!
Join WBAL's News Anchor Jason Newton & Puppy With A Purpose, Camden, for a 5K run and 2-mile dog walk to benefit and celebrate America's VetDogs.
The event will begin at 7:30 a.m. at The Avenue at White Marsh on Sunday, April 28, 2019.
Participants can run or walk with the pack, then stick around for an after-party.
There will be live music by Riot House, plus adult beverages, pulled pork, breakfast sandwiches, Pupcakes to Cupcakes, and more.
The 5k race route will travel through The Avenue at White Marsh, onto Honeygo Boulevard, onto the ring road surrounding White Marsh Mall, then back to The Avenue to finish at the Main Plaza.
Baltimore County Police will be closing a portion of Honeygo Boulevard (from Corporate Drive to Campbell Boulevard), at approximately 8:45 a.m. All traffic will be re-routed through the area via Town Center Drive, Corporate Drive, and Sandpiper Circle. Additionally, officers will be stationed at key locations to manage traffic and provide access to White Marsh Mall via the ring road. Road closures will open as soon as it is safe to do so and are expected to occur by 10 a.m.
For more information, or to register, visit http://race4vets.vetdogs.org or call (631) 930-9054.
Facebook Comments