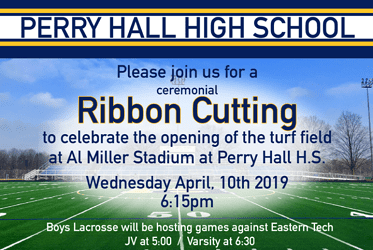 Perry Hall High School will hold a ribbon-cutting to mark the opening of its new turf athletic field.
The ceremony will be held on Wednesday, April 10, 2019, at 6:15 p.m. at Al Miller Stadium.
The school's lacrosse teams will be hosting games against Eastern Tech.  The JV game will take place at 5 p.m. and the varsity game will take place at 6:30 p.m.
County Executive Johnny Olszewski Jr. will attend the ribbon-cutting.
"I would like to thank the volunteers, businesses, and other elected officials who raised the funding to complete this project," said Councilman David Marks, a 1991 graduate from Perry Hall High School. "We now move on to the replacement of the press box and the track."
Facebook Comments