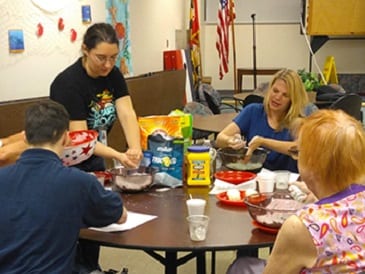 Parkville Senior Center has been recognized by the National Council on Aging's (NCOA) National Institute of Senior Centers (NISC) with a 2018 Programs of Excellence Award honorable mention prize for their innovative programming.
Parkville was one of only 15 programs honored with the annual recognition for innovative, creative, and replicable programs for older adults, out of a field of more than 100 submissions from across the United States.
Parkville Senior Center's "Journey Into Space" intergenerational program was a four-part series that brought seniors and students together to learn about space and space exploration. During the first class, senior center members and their grandchildren watched a distance learning program by NASA where they were on a virtual spaceship.
In subsequent classes, the participants built rockets, learned about the International Space Station and Newton's Laws of Motion, and watched "Star Wars."
The NISC Programs of Excellence winners are picked by a committee of senior center professionals. Certificates and cash awards are given to programs in seven categories and in one highlighted area related to preventing social isolation. The categories include:
Community Development, Leadership and Intergenerational
Cultural Programs
Fundraising
Health and Wellness
Nutrition
Technology
Special Events
Social Isolation Prevention (Highlighted Area)
"Our 20 senior centers in Baltimore County are important destinations for older adults to live longer and live well, and our staff works hard to keep our programs fun and educational for our members," said Laura Riley, Director of the Baltimore County Department of Aging. "We are honored to have two of our centers receive a NISC Programs of Excellence award, and hope that other senior centers across the country will be able to replicate these programs to benefit their members."
"I'm proud of the great work our Department of Aging team does with our older residents," said Baltimore County Executive Johnny Olszewski, Jr. "This is a great recognition of the work that is being done to keep our older adults healthy, active and informed."
Facebook Comments