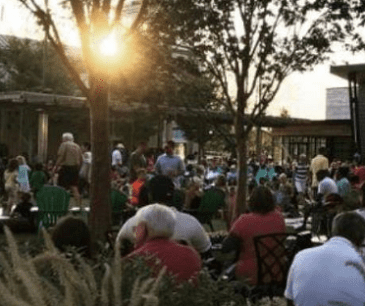 Live music returns to The Avenue at White Marsh this summer.
The Avenue Live outdoor music series will kick off on Friday, May 24, 2019 and continue every Friday and Saturday, 7 p.m. – 9 p.m., through Labor Day weekend.
Patrons can enjoy patio dining or grab a bite from one of The Avenue's eateries and bring a blanket (chairs prohibited). Plus, there will be beer, wine, and more available in the event area.
For the convenience of those in need of additional seating, representatives from Perry Hall High School will provide chairs (appropriate for use on the turf) for rental. A minimum donation of $2 per chair is required and all proceeds will benefit the fundraising efforts of Perry Hall High School.
Please note:
Bringing your own food and beverages is prohibited at these performances. Only food and beverages purchased from THE AVENUE at White Marsh restaurants and eateries will be permitted. **Limit 2 snack size bags of food – for special instances such as allergies.
Coolers are prohibited.  B.Y.O chairs prohibited.
Alcoholic beverages purchased from our drink tents must be consumed in the event area.
Food and drink tents will be open 6 p.m. – 9 p.m.
The Main Plaza event area is designated smoke free.
THE AVENUE LIVE – 2019 Lineup:
5/24 Nelly's Echo (Pop / R&B)
5/25 Will Hill (Reggae / Rock and Soul)
5/31 Junkyard Saints (New Orleans)
6/1 Dan Haas (Pop Rock / Variety)
6/7 Liquid A (Pop Rock)
6/8 The Muddy Crows (Indie-Rock)
6/14 Matt Hutchison and Big Gin (Rock / Americana)
6/15 Billy Coulter Band (Americana)
6/21 Moonshine Society (Blues / Roots / Soul)
6/22 Unity Reggae Band (Reggae)
6/28 Three of Clubs (Pop / Variety)
6/29 The Crawdaddies (Roots Rock / Zydeco)
7/5 Classroom Dragons (R&B / Rock / Variety)
7/6 8 Ohms Band (Roots / Reggae)
7/12 Amanda Lynne Band (Rock)
7/13 King Teddy (Swing)
7/19 Hayley Fahey Band (Pop / Indie-Folk)
7/20 Dublin 5 (Celtic Rock)
7/26 9 Mile Roots (Reggae)
7/27 Hustle Souls (Indie-Pop)
8/2 Dan Haas (Pop Rock / Variety)
8/3 Will Hill (Reggae / Rock and Soul)
8/9 Baltimore Rockabilly (Rockabilly)
8/10 Jah Works (Reggae)
8/16 Hard Swimmin Fish (Blues)
8/17 Speakers of the House (Rock / Soul)
8/23 Classroom Dragons (R&B / Rock / Variety)
8/24 Scott Kurt and Memphis 59 (Country)
8/30 Matt Hutchison and Big Gin (Rock / Americana)
8/31 I&I Riddum (Reggae)
Facebook Comments