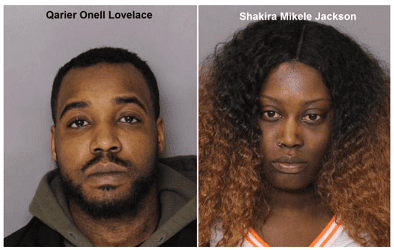 Detectives from the Baltimore County Police Department made two arrests on Monday in connection with a shooting on Handworth Way in Nottingham (21236) that left one man injured on Sunday night.
Police were called to MedStar Franklin Square Medical Center on Sunday evening after a man walked in with a gunshot wound to the lower body.
The victim, 31, stated that he and his girlfriend were involved in an altercation with another couple at around 7:30 p.m. that led to the male suspect shooting him.
The victim was treated at the hospital and released.
Advertisement
Police have identified the suspects as Qarier Onell Lovelace, 29, of the 1200-block of South Marlyn Avenue (21221), and Shakira Mikele Jackson, 31, of Handworth Way (21236).
Both suspects have been charged with attempted first-degree murder, first-degree assault, and firearms charges.  They are both being held without bail at the Baltimore County Detention Center pending a bail review hearing.
Facebook Comments