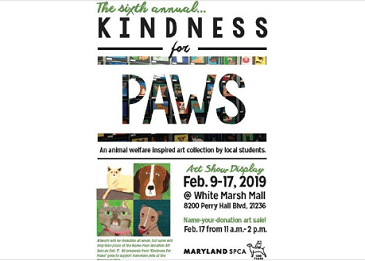 The Maryland SPCA will be hosting their 6th Annual Kindness for Paws Art Show at White Marsh Mall in the Macy's HOME court this February.
This is an animal-welfare-inspired art collection by local students from various local schools.
Artwork will be available in the Macy's HOME court from Saturday, February 9th, through Sunday, February 17th.
On Sunday, February 17th from 11 a.m. – 2 p.m., there will be a Name-Your-Donation Art Sale located at Macy's HOME court.
All proceeds from "Kindness For Paws" will go to support homeless pets at the Maryland SPCA.
Participating schools include:
Advertisement
Arbutus Middle, Calvert School, Carney Elementary, Chatsworth Elementary, Chesapeake Terrace Elementary, City Neighbors High, Deep Creek Middle, Essex Elementary, Featherbed Lane Elementary, Franklin High, Grange Elementary, Guilford Elementary/Middle, Harford Hills Elementary, Hawthorne Elementary, Holy Angels Catholic, Jacksonville Elementary, John Ruhrah Elementary/ Middle, Joppatowne Elementary, Kenwood High, Martin Blvd. Elementary, Middle River Middle, Monarch Academy, Oakland Mills Middle, Owings Mills Elementary, Padonia International Elementary, Perry Hall Middle, Pine Grove Middle, Ridgely Middle, Ring Factory Elementary, Roland Park Country School, Seneca Elementary, Stemmers Run Middle, Sudbrook Magnet Middle, Summit Park Elementary, Villa Cresta Elementary, Vincent Farm Elementary and Woodmoor Elementary.
Facebook Comments