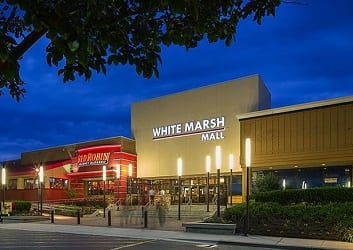 An uptick in public disturbances in and around White Marsh Mall has led to much concern within the local community in recent months.
On Friday, County Executive Johnny Olszewski, Jr. issued a statement in response to these concerns.
"Every person deserves to feel safe in their community," said Olszewski. "(Baltimore County Police) Chief (Terrence) Sheridan and I are actively discussing additional measures to engage residents and address concerns about crime. To that end, I will be talking with mall leadership and will ask them to develop a clear and specific policy on unsupervised youth. As we work to keep our communities safe, we will not point fingers but instead work in collaboration with our partners in the Baltimore region to address public safety concerns."
A disturbance at White Marsh Mall last month led to an assault on a police officer.
Last year, another disturbance at the mall spilled over onto The Avenue at White Marsh and shots were fired.
The Baltimore County Council has urged the mall to enforce a curfew similar to the one in place at Towson Town Center, but officials at White Marsh Mall have declined to do so.
.@BaltCoExec has released the following statement in response to public conversations regarding recent public safety incidents at White Marsh Mall: pic.twitter.com/uwm0lP7MLK

— Baltimore County (@BaltCoGov) January 4, 2019
Facebook Comments