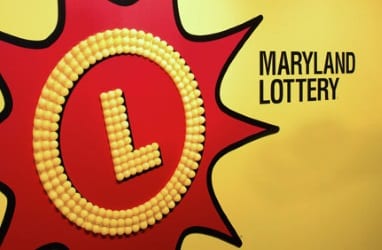 The day after winning a radio call-in contest, a Fallston man got lucky again, winning a top prize on the Maryland Lottery's $10 scratch-off game $100,000 Crossword, in part because he didn't pack a lunch.
"My wife didn't make me a lunch that day," he says, adding that he's lucky to have a spouse who generally packs him a lunch.
"She's great," says the 44-year-old player, who claimed the prize on Wednesday 26 at Maryland Lottery headquarters in Baltimore.
Looking for lunch on that early December day, the man visited the Wawa convenience store at 204 Connolly Road in Fallston and picked up a salad as well as the $100,000 Crossword scratch-off ticket. He is a regular player, who enjoys Mega Millions, Powerball, and Multi-Match, and also is a big fan of the extended-play games like Bingo and crossword scratch-offs.
"It's entertainment for me," he says, explaining that he enjoys the matching challenge of the two types of games. He also prefers to play scratch-offs where the top prizes range from $50,000 to $100,000.
"I play big to win big," he says.
Advertisement
He ended up waiting a few weeks before claiming the prize because he wanted to meet with a financial planner, and because of the holidays. Throughout that time, he re-checked the ticket numerous times, just to be sure. The whole family will benefit from the proceeds of the big score, as a large portion is likely to go for a new kitchen, and some also will go toward family business upgrades.
In addition, the family celebrated with a steak dinner at a nice restaurant in nearby Bel Air. As for the radio call-in prize, a book, it was still in process as of December 26th.
For selling a top prize ticket in the $100,000 Crossword game, the lucky Wawa store will receive a $1,000 bonus, equal to 1 percent of the prize total.
Facebook Comments