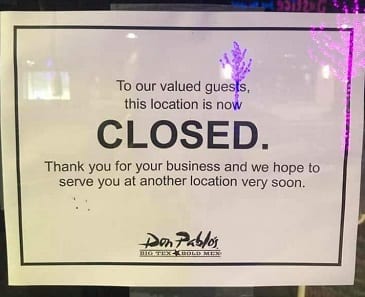 UPDATE: Wayward Smokehouse will replace Don Pablo's on The Avenue.
Original story below…
——
One of the many restaurants on The Avenue at White Marsh has closed its doors.
Patrons at The Avenue on Monday reported seeing a sign in the door of Don Pablo's stating that the location had been closed.
The Tex-Mex chain filed for Chapter 11 bankruptcy protection back in 2016, although it was not immediately clear as to whether that had anything to do with the closing of the White Marsh location.
Advertisement
At one point, Don Pablo's had 120 locations throughout the United States after being founded in 1985, making it the second largest full-service Mexican restaurant chain in the U.S. during the 1990s, according to the filing U.S. Bankruptcy Court.
Reports indicate that Wayward Smokehouse will likely be opening in the White Marsh location, although this has not yet been confirmed by officials with The Avenue.
Facebook Comments