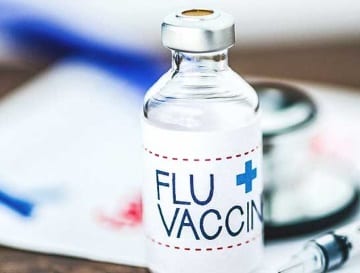 Baltimore County Executive Don Mohler, Director of Health and Human Services, Dr. Gregory Wm. Branch, and Department of Health mascot, "Sure Shot" have announced Baltimore County's Super Saturday, free flu vaccination clinics.
The free, flu vaccination clinics will be held on Saturday, October 13, 2018 from 9 a.m. to noon at the following locations:
Drumcastle Government Center
6401 York Road, First Floor
Baltimore, Maryland 21212
Dundalk Middle School
7400 Dunmanway
Baltimore, Maryland 21222
Hereford Middle School
712 Corbett Road
Monkton, Maryland 21111
Lansdowne Middle School
2400 Lansdowne Road
Baltimore, Maryland 21227
Middle River Middle School
800 Middle River Road
Baltimore, Maryland 21220
Pikesville Middle School
7701 Seven Mile Lane
Pikesville, Maryland 21208
Randallstown Community Center
3505 Resource Drive
Randallstown, Maryland 21133
Free flu vaccinations will be available, while supplies last. Vaccines are given on a first come, first served basis and no appointment is needed. Residents are asked to wear short-sleeved or sleeveless shirts for quick and easy access to the portion of their arm where the vaccination will be administered.
"Our goal is to make getting your flu shot as accessible and convenient as possible so that we can help to safeguard against this potentially dangerous illness," said Baltimore County Executive Don Mohler. "Holding these clinics at seven locations across the County and providing the vaccine at no cost is a great way to prepare for the flu season."
The Centers for Disease Control and Prevention recommends that everyone six months of age and older get the flu vaccine – even if they were vaccinated last year – since immunity from vaccination declines over time and strains may change from year to year. The vaccine is safe, effective and readily available this season.
"We don't want locations or cost be a deterrent for people to get their shot," said Dr. Gregory Wm. Branch, Director of Health and Human Services. "The best defensive move against the flu is knowing the flu FACTS – Frequently wash your hands, Always get an annual flu shot, Cover your coughs, Take time off when you are sick, and Seek medical treatment if symptoms get worse."
For more information on Super Saturday flu vaccination clinics, call 410-887-BCHD (2243) or visit www.baltimorecountymd.gov/flushot.
Facebook Comments