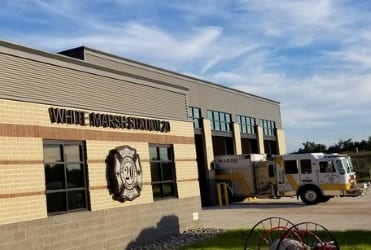 UPDATE: For details on the station's grand opening, click here.
Original story below…
——
The day has arrived.
The White Marsh Volunteer Fire Company's new station opened for business on Friday.
WMVFC posted the following to Facebook on Friday evening:
We're now responding from our new station at 10331 Philadelphia Road, White Marsh, MD 21162.

P.O. Box 309 should still be used for postal mail.

Our phone numbers are 410-933-0100 or 410-887-5770.

Please do not try to use our old number as it was not transferable and will no longer work.

Please remember to call 911 in case of emergency.




The new station broke ground in November 2016.
WMVFC has grown to over 200 members and had outgrown its 68-year-old facility on Ebenezer Road.
The previous station was built in 1949. Located between the CSX railroad tracks and Philadelphia Road, approximately 11,000 cars passed by WMVFC on a daily basis.
The new, approximately 20,000-square-foot facility will utilizes an optimal floor plan for modern-day emergency response and is intended to meet the needs of WMVFC's growing membership. It features individual bunks, an indoor training facility, showers for each volunteer, a gym, kitchen, and even a study.
"We are excited to see five years of planning come to fruition," said Lt. Kevin Palmer, President at WMVFC. "A lot of time was spent from various members of the company as well as members of our community in order to develop, plan, and construct a fire and EMS station that can serve the needs of our community for the next 50 years. September 7, 2017 will be an important day in for our Company and the community we serve."
A grand opening event is planned for October 6th.
Facebook Comments