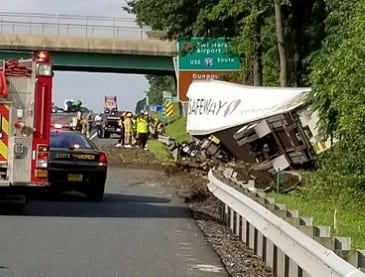 A tractor-trailer crash along Interstate 95 caused some big delays on Sunday morning.
At about 8:30 a.m.,  a Safeway truck crashed and went off the highway along southbound I-95 just before the New Forge Road overpass.
Crews from White Marsh Volunteer Fire Company, Kingsville Volunteer Fire Company, the Maryland Department of the Environment, Maryland State Police, and Maryland State Highway Administration responded to the scene.
Hazmat crews were also dispatched.
Story continues below
There were no other vehicles involved and no reported injuries.
All lanes have been reopened, however traffic is now backed up for four miles along southbound I-95.
Motorists should expect delays.
Facebook Comments