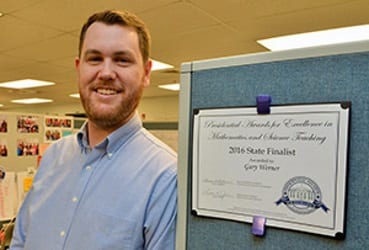 Gary Werner, a resource teacher in the Baltimore County Public Schools Office of Science PreK-12 and a Perry Hall resident, has been named one of only four Maryland finalists for a Presidential Award for Excellence in Math and Science Teaching.
He also was a state finalist in 2016. The national awards, created in 1983 to recognize exemplary instruction in mathematics and science, are presented to up to 108 teachers each year and represent the highest honor a teacher can receive from the U.S. government.
Werner was nominated for this year's state award by John Roland, a physics teacher at Perry Hall High School. Roland taught Werner when Werner was in high school and greatly influenced Werner's decision to become a teacher.
As a resource teacher, Werner spends his time helping elementary science teachers throughout BCPS with professional development, writing curriculum, mentoring younger teachers, and addressing their instructional needs.
Implementing new science standards – the "Next Generation Science Standards" – is a top priority for Werner, who himself has developed and written science curriculum for BCPS.
"He has demonstrated a great capacity to re-imagine what science lessons could look like in the age of the Next Generation Science Standards," said Eric Cromwell, BCPS coordinator of elementary science.
Advertisement

Werner, who lives in Perry Hall, attended Perry Hall elementary, middle, and high schools before graduating from Towson University with a degree in elementary education.
Prior to becoming a resource teacher just last year, Werner taught fifth grade at Gunpowder Elementary School for 11 years.
"Gary came to the Office of Science after a storied career at Gunpowder Elementary," said Cromwell. "And after working with him and his students, I can definitely say that he asked more of his students than they knew they could give."
At school STEM Fairs, Cromwell remembers being impressed by the level of achievement Werner's students demonstrated.
"They produced incredible products," he recalls. "From plastic produced from milk to analyzing elaborate algorithms, Gary's students demonstrated that we greatly underestimate the potential of our students."
Facebook Comments