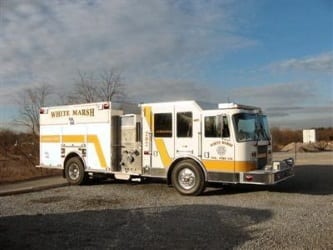 Three Saturday afternoon incidents have drawn an emergency response in the White Marsh and Middle River areas.
At just before 1:30 p.m., emergency crews responded to the area of Compass Road at Martin Boulevard in Middle River (21220).  There, a car had left the roadway and plowed into the front of Beer Pump Wine and Spirits.  No injuries were reported.
At just before 2 p.m., the White Marsh Volunteer Fire Company responded to the Dick's sporting goods store on Campbell Boulevard in White Marsh for a report of a burning smell.  At the scene, crews found that a belt had burned up in the store's HVAC unit.  No injuries were reported.
At just after 2 p.m., the crews from WMVFC responded to an accident along northbound Interstate 95. An exact location was not given, nor was there any update on injuries.
Facebook Comments