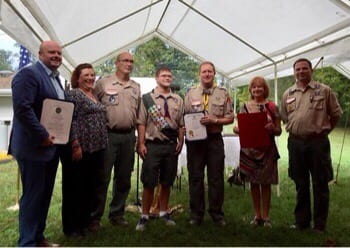 Boy Scout Troop 124 celebrated its 100th Eagle Scout at a ceremony at the Baltimore Bowman range on Sunday, October 8th.
The 100th Eagle Scout is Nicholas Cummings, the son of Keith and Charlene Cummings of Parkville. A graduate of Parkville High School, Nicholas led a repainting of the Baltimore Bowman clubhouse for his Eagle Scout service project.
Councilman David Marks, Senator Kathy Klausmeier, and Delegate Joe Cluster presented resolutions in honor of his accomplishment. Delegate Christian Miele presented a Maryland flag at a private meeting several days earlier.
Troop 124's Scoutmaster is Mike Huneke. The troop has been chartered to St. Isaac Jogue Roman Catholic Church since 1971.
Facebook Comments