TOWSON, MD—The Baltimore County Council on Monday evening voted to extend the county's state of emergency due to the COVID-19 pandemic.
The 4-3 vote, which followed party lines, extends the state of emergency by 35 days.
County Executive Johnny Olszewski last week declared a local state of emergency to "expand Baltimore County's ability to respond to the COVID-19 pandemic."
Republican Councilmen David Marks, Wade Kach, and Todd Crandell voted against the measure while Councilman Tom Quirk, Councilman Izzy Patoka, Councilwoman Cathy Bevins, and Council Chairman Julian E. Jones Jr., all Democrats, voted for approval.
Councilman Todd Crandell led the three Republicans in opposing the measure.
"The Local State of Emergency gives the County Executive powers to control aspects of commerce, public gatherings, and transportation. That's it," Councilman Crandell said last week. "There is no language in anything we researched, nor has the Administration proven to us, that a Local State of Emergency is necessary to procure state and federal aid to respond to the pandemic. In fact, the County has been operating without a State of Emergency with no slowing of its response for the last six weeks."
Democratic members of the council, meanwhile, say that the county has continued to see rising case totals and hospitalizations over the past two several weeks.
"Local State of Emergency extended," Council Chairman Jones tweeted on Tuesday morning. "Happy to Chair the Baltimore County Council as we continue our efforts to combat the continued spread of the Delta variant."
As of Tuesday, Baltimore County has 15.4 daily new cases per 100K people, the fifth-lowest rate in the state.
"As a result of our measured, balanced, data-driven approach in response to the COVID-19 pandemic, Maryland continues to have one of the lowest positivity rates and case rates in the nation," said Governor Larry Hogan on Monday.
Monday evening's vote allows the state of emergency to extend beyond August 31 and will necessitate another council vote to approve its end.
More information is available in the graphics below, via https://globalepidemics.org.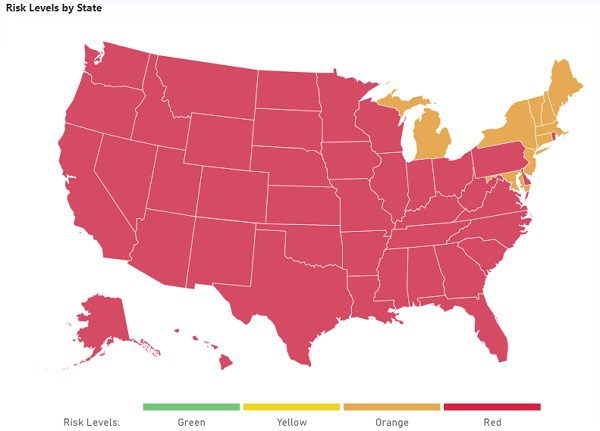 Featured photo by Sora Shimazaki from Pexels
Facebook Comments