NOTTINGHAM, MD—The National Weather Service has issued a Tornado Watch and a Flood Warning for the Nottingham area.
The Tornado Watch covers the entire Baltimore area and will remain in effect until 7 p.m. on Monday evening.
The Flood Warning will remain in effect until 7:15 p.m.
At just before 1:15 p.m., Doppler radar indicated heavy rain in the area due to thunderstorms .
Flooding is ongoing or expected to begin shortly. Between 1.5 and 2.5 inches of rain have fallen.
Some locations that may experience flooding include Middle River, Essex, Perry Hall, Rosedale, Rossville, White Marsh, Bowleys Quarters, Kingsville, Joppa, Nottingham, and Martin State Airport.
Additional rainfall amounts of 0.5 to 1 inch are possible in the warned area.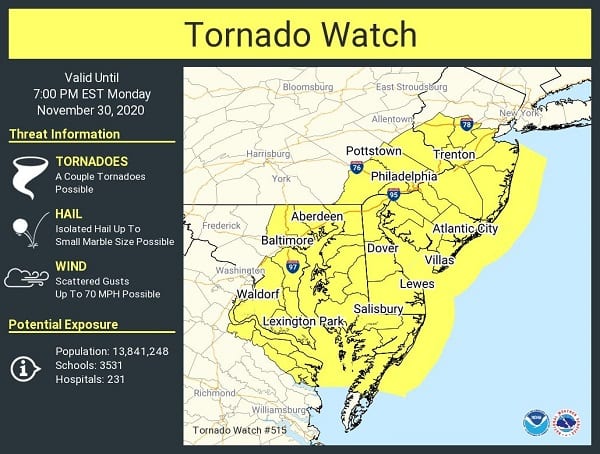 Advertisement
Facebook Comments