UPDATE: View the latest NottinghamMD.com COVID-19 reports here.
Original story below…
——
NOTTINGHAM, MD—The Maryland Department of Health on Sunday reported that statewide COVID-19 hospitalizations remained largely unchanged while Governor Larry Hogan cautioned younger Marylanders regarding a spike in cases among those in their 20s and 30s.
As of Sunday morning, there have been 78,131 cases of novel coronavirus in Maryland, an increase of 925 cases since Saturday. The statewide positivity rate remains flat at 4.46%, largely unchanged from Saturday's 4.44%.  Baltimore County's positivity rate now stands at 5.49%, a slight increase from Saturday's 5.40%.  As can be seen in the "Testing Volume" chart below from MDH, this would seem to indicate that the spike in cases coincides with increased testing in recent weeks. Maryland has now conducted 943,853 coronavirus tests, including 28,899 tests that were conducted over the past 24 hours. This marks the highest number of new tests that were performed over a 24-hour period in Maryland since the pandemic began.
There have been 3,247 related deaths and 449 individuals are currently hospitalized…an increase of 9 deaths and 1 hospitalized patient since Saturday. There have now been 661,654 negative test results.
Baltimore County has confirmed 9,723 COVID-19 cases and and 490 deaths (note: "probable" deaths are not included in the totals below).
Case breakdown by zip code in NottinghamMD.com's coverage area:
21128 (Perry Hall) – 107 cases
21162 (White Marsh) – 43 cases
21234 (Hillendale/Parkville/Carney) – 782 cases
21236 (Overlea/Fullerton/Nottingham) – 330 cases
Previous COVID-19 reports can be viewed here.
"Nearly half of new (COVID-19) cases belong to Marylanders in their 20s and 30s, and the positivity rate for Marylanders under 35 is over 85% higher than Marylanders 35 and older," said Governor Larry Hogan on Sunday. "We are urging younger Marylanders to take these statistics seriously: this pandemic is by no means behind us."
View the Maryland Strong: Roadmap to Recovery here.
Additional charts and data can be found below.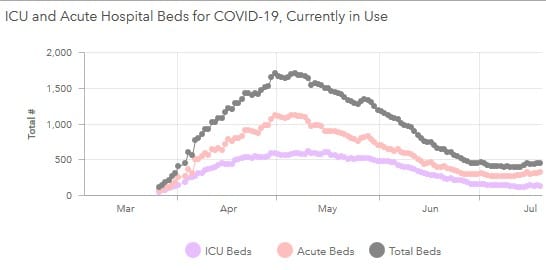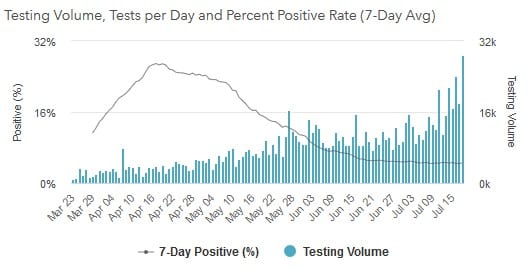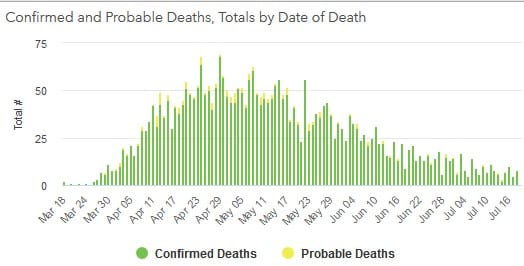 Facebook Comments