UPDATE: View the latest NottinghamMD.com zip code reports here.
Original story below…
——
NOTTINGHAM, MD—The Maryland Department of Health on Sunday reported that statewide COVID-19 hospitalizations had dropped for the 32nd consecutive day.
As of Sunday morning, there have been 66,777 cases of novel coronavirus in Maryland.  The statewide positivity rate is now at 4.89%, largely unchanged from Saturday's 4.86%.  Baltimore County's positivity rate now stands at 5.51%, a decrease from Saturday's 5.95%.
There have been 3,042 related deaths and 446 individuals are currently hospitalized…a decrease of 32 patients since Saturday.  COVID-19 hospitalizations in Maryland have now fallen for 32 straight days. There have been 452,696 negative test results.
Baltimore County has confirmed 7,847 COVID-19 cases and and 445 deaths (editor's note: for the sake of accuracy, "probable" deaths are not included in the totals below).
Case breakdown by zip code in NottinghamMD.com's newly-redefined coverage area:
21128 (Perry Hall) – 57 cases
21162 (White Marsh) – 24 cases
21234 (Hillendale/Parkville/Carney) – 585 cases
21236 (Overlea/Fullerton/Nottingham) – 240 cases
Previous zip code reports can be viewed here.
"We continue to see positive trends in Maryland's key COVID-19 health metrics, including our total current hospitalizations, which have now fallen below 450," said Governor Larry Hogan on Sunday. "Baltimore City has become the seventh jurisdiction to meet the goal of testing 10% of the population in every jurisdiction."
View the Maryland Strong: Roadmap to Recovery here.
Additional charts and data can be found below.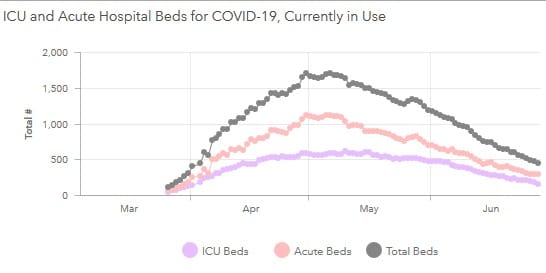 Facebook Comments