UPDATE: View the latest NottinghamMD.com zip code reports here.
Original story below…
——
NOTTINGHAM, MD—The Maryland Department of Health on Friday reported that COVID-19 hospitalizations in the state fell once again, as did the statewide positivity rate.
As of Friday morning, there have been 56,770 cases of novel coronavirus in Maryland.  The statewide positivity rate is now at 8.4%, a decrease from Thursday's 8.91%. Baltimore County's positivity rate stands at 7.23%, a decrease from Thursday's 7.94%.
There have been 2,580 related deaths and 1,076 individuals are currently hospitalized…a decrease of 20 hospitalizations since Thursday.
There have been 290,956 negative test results and 4,159 individuals have been released from isolation. Of Maryland's 2,580 deaths, 1,386 (more than 50 percent) have been in congregate facility settings (nursing homes).
Baltimore County has confirmed 6,590 COVID-19 cases and and 360 deaths while Harford County has confirmed 929 cases and 48 deaths (editor's note: for the sake of accuracy, "probable" deaths are not included in these totals).  Of Baltimore County's 360 COVID-19 deaths, 277 (more than 70%) have occurred within nursing home communities.
Case breakdown by zip code in NottinghamMD.com's coverage area of northeastern Baltimore County and southern Harford County:
21040 (Edgewood) – 134 cases
21047 (Fallston) – 29 cases
21057 (Glen Arm) – 23 cases
21085 (Joppa) – 74 cases
21087 (Kingsville) – 15 cases
21128 (Perry Hall) – 42 cases
21156 (Upper Falls) – 0 cases
21162 (White Marsh) – 15 cases
21206 (Overlea) – 446 cases
21220 (Middle River) – 335 cases
21221 (Essex) – 315 cases
21234 (Parkville/Carney) – 483 cases
21236 (Nottingham) – 187 cases
21237 (Rosedale) – 330 cases
Previous zip code reports can be viewed here.
On Wednesday afternoon, Governor Larry Hogan announced that, as of Friday, June 5 at 5 p.m., the state would begin entering Stage Two of the Maryland Strong: Roadmap to Recovery.  The executive order mandating the closure of non-essential businesses will be lifted and non-essential businesses may begin to reopen.
Baltimore County has also announced plans to move into Stage Two at 5 p.m. on Friday.
"Maryland has surpassed the milestone of 400,000 COVID-19 tests, and as we prepare to enter Stage Two of reopening, our positivity rate has dropped to 8.4%," Governor Hogan said on Friday. "Total current hospitalizations have fallen to their lowest level since April 13."
Additional chart and data can be viewed below.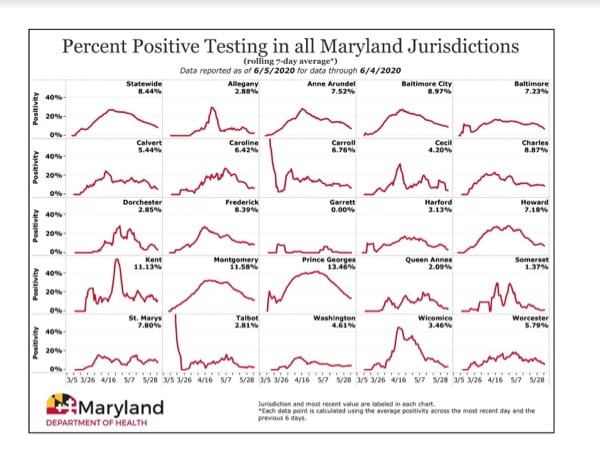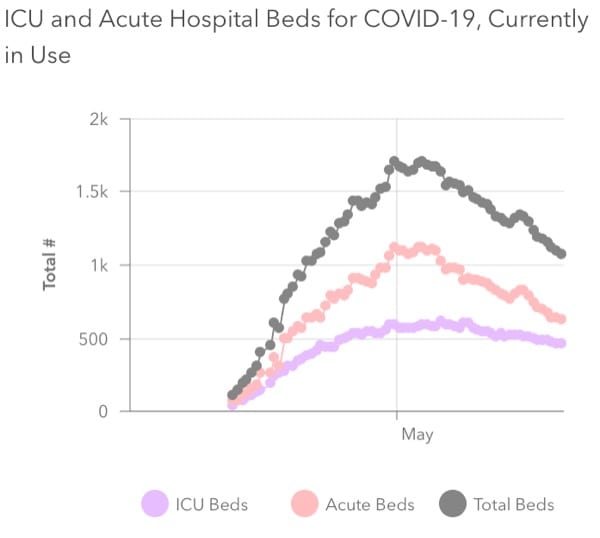 C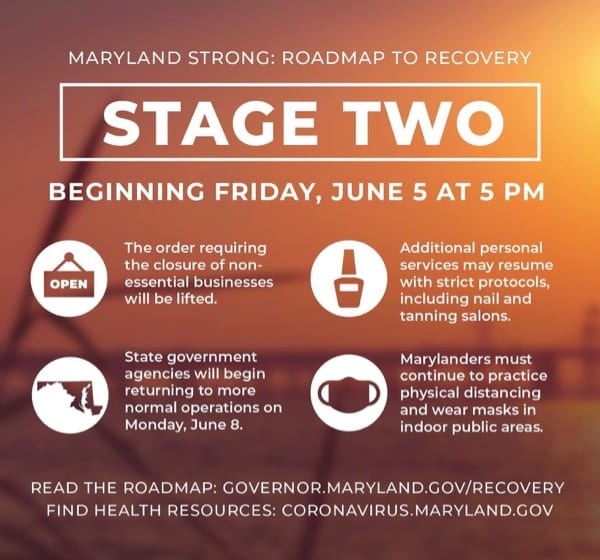 Facebook Comments