UPDATE 2: Bengies will reopen on Wednesday, June 3, 2020.
UPDATE: Bengies has been allowed to reopen but no date has yet been announced.
Original story below…
——
MIDDLE RIVER, MD—Maryland's only drive-in movie theater remains closed, even as others across the U.S. are experiencing a renaissance in the wake of the COVID-19 pandemic.
Local elected officials have made a case for reopening the Middle River theater, including Comptroller Peter Franchot, Delegate Kathy Szeliga, Senator J.B. Jennings, and even Baltimore County executive Johnny Olszewski, but the state of Maryland has denied the county's request.
"Drive-In movie theatres are open in our surrounding states and in states across they county" said Bengies owner D. Edward Vogel. "Leaders in those states can differentiate between a drive-in movie theatre and an indoor movie theatre. Why won't the State of Maryland?"
The state did issue a response to the county's request.
"Since Bengies is subject to the amusement tax, the governor's orders are very clear that they cannot operate at this time," read the state's response, according to Vogel. "There is no gray area within which local government could provide authorization to commence operations. Senior staff is aware of your views and will take them into account as the re-opening process moves forward."
Some have stated on social media that they would rather see Bengies remain closed after a controversial image showing a coronavirus-related message on the theater's marquee circulated on Facebook in recent weeks…
(Story continues below)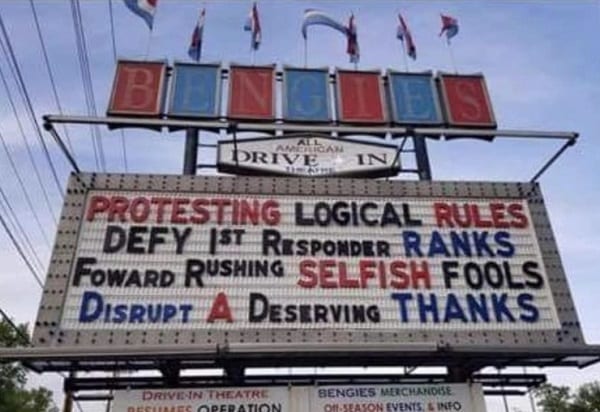 It was not immediately apparent when or why the above message was posted on the sign and it has since been taken down.
"Baltimore County Government was told by the State of Maryland, because the Governor's order said movie theatres are closed, it made NO DIFFERENCE that we were an outdoor venue," Bengies wrote on their website.
"My public exhibition license states that I am licensed for a drive-in theatre, as in outdoor exhibition," Vogel adds. "The State refuses to acknowledge us as a separate venue to keep Baltimore County from allowing us to open!"
The letter from Senator J.B. Jennings to Governor Larry Hogan can be viewed below.
Click to access Jennings_BengiesDriveIn_final.pdf
Facebook Comments