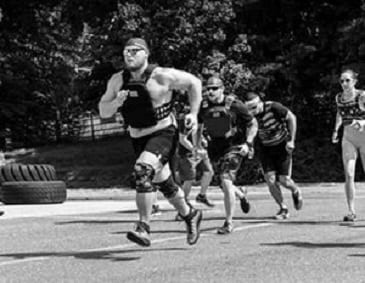 WHITE MARSH, MD – In honor of all U.S. servicemen who have paid the ultimate price, both past, present, and future, the White Marsh Fire Company, together with Perry Hall CrossFit, will host the annual Murph Challenge this weekend.
The event will take place from 9:30 a.m. to 12:30 p.m. on Saturday, May 25, at the WMVFC station located at 10331 Philadelphia Road in White Marsh.
All proceeds will go to benefit the White Marsh Fire Company and the Navy SEAL foundation.
"Murph" is a workout named after Michael P. Murphy, an United States Navy SEAL officer who was awarded the U.S. military's highest decoration, the Medal of Honor, for his actions during the War in Afghanistan.
Participants can take on the workout as a team or as an individual.
The workout is performed in one of two ways"
1)
1 Mile Run
100 Pull-ups
200 Push-Ups
300 Squats
1 Mile Run
Story continues below
OR
2)
1 Mile Run
10 Rounds of:
10 Pull Ups
20 Push Ups
30 Squats
1 Mile Run
There will also be alternative options for the workout.  Participants can substitute rowing or biking in place of running, jumping pull-ups or ring rows in place of pull-ups, modified/knee or incline push-ups in place of traditional push-ups, or box Squats in place of traditional air squats.
Tickets are on sale now at Eventbrite (click here) for $10.
For more information, visit the event page on Facebook here.
Facebook Comments