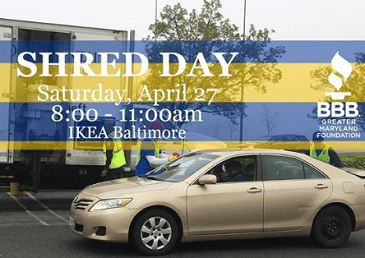 IKEA will be holding a Shred Day in White Marsh on Saturday, April 27, 2019.
The 12th Annual Shred Day in Maryland is part of a Better Business Bureau campaign across North America that seeks to broaden awareness about and reduce identity theft in local communities.
In 2018, BBB helped 1,812 attendees destroy 35 tons of personally identifiable documents at Shred Day.
Each driver is welcomed by staff and volunteers and receives educational material as they navigate to on-site mobile shredders.
BBB staff, volunteers, and sponsors give full-service assistance to keep drivers and passengers safely inside their vehicles while authorized personnel from the National Association of Information Destruction, AAA certified company, Iron Mountain, perform the actual shredding.
This year, BBB will be at IKEA from 8 a.m. – 11 a.m.
Attendees may bring up to four bags or boxes of documents for secure, on-site destruction.