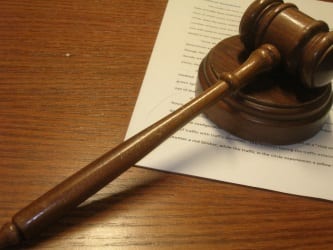 Baltimore, MD – A federal grand jury has indicted 20 defendants on federal racketeering and related charges at the Maryland Correctional Institute Jessup (MCIJ), including correctional officers, employees, contractors, inmates, and outside "facilitators," for allegedly paying bribes to correctional officers and other staff members to smuggle contraband, including narcotics, unauthorized flash drives, tobacco, and cell phones into the prison.
The indictment was returned on March 28, 2019, and made public on Tuesday upon the arrest of the defendants.
"Our public officials—including correctional officers and prison staff—must conduct their duties with integrity and professionalism," said U.S. Attorney Robert K. Hur. "The indictment alleges that prison officials took bribes to smuggle contraband for inmates, and assaulted inmates. Corrupt correctional officers and staff endanger the lives of their co-workers and of the inmates entrusted to their care and supervision, and undermine everyone's faith in the administration of justice."
"One of the FBI's top priorities continues to focus on the detection of corruption," said FBI Assistant Special Agent in Charge Brian Nadeau. "Today's arrests are the result of the seriousness the FBI takes regarding unlawful actions conducted by public servants who use their position to enrich themselves."
"Today's action brings the number of officers, inmates and citizen accomplices indicted for Maryland prison corruption to close to 200 since Gov. Hogan made it a priority when taking office in 2015," said Acting Secretary Michael Ziegler of the Maryland Department of Public Safety and Correctional Services. "And we are far from finished in arresting those who cannot live up to their oath to protect the public, our staff and those in our custody."
According to the indictment, MCIJ was a medium-security prison that housed approximately 1,100 male inmates, with 262 custody staff or Correctional Officers (COs) and 52 non-custody staff, including case management, medical, and administrative staff.
The 11-count indictment alleges that from in or about 2014, until the present, the COs, employees, and contractors conspired with the inmates and outside facilitators to smuggle contraband into MCIJ, including narcotics, cell phones, unauthorized flash drives, and tobacco. According to the indictment, inmates and facilitators paid COs, employees, and contractors for smuggled contraband in cash, money orders, Green Dot cards, and using PayPal and other electronic forms of payment. Inmates were able to use contraband cell phones to pay COs, employees, and contractors directly using PayPal from within MCIJ. Inmates also received payments from other inmates for contraband through PayPal and Green Dot, often with the assistance of facilitators.
The indictment alleges that the defendants conspired to smuggle and traffic in narcotics within MCIJ, including heroin, fentanyl, cocaine, MDMA (commonly referred to as "molly" or ecstasy), buprenorphine (commonly referred to as "Suboxone," a prescription opioid used to treat heroin addiction), marijuana and synthetic cannabinoids (otherwise known as "K2"), and other contraband, including cell phones, unauthorized flash drives, and tobacco, in order to expand their criminal operations. The profits made by the inmates by selling contraband in the prison far exceeded the profits that could be made by selling similar items on the street. For example, defendant inmates could purchase Suboxone strips for $10 each and sell them inside MCIJ for $50 each, a profit of more than 1,000 percent.
According to the indictment, although COs and other MCIJ employees were required to pass through security screening at the entrance to MCIJ, the COs, employees, and contractors were able to hide contraband on their persons. Additionally, the COs, employees, and contractors took breaks during their shifts and returned to their cars to retrieve contraband. Once the COs had the smuggled contraband inside the facility, they delivered it to inmates in their cells; at the medical facility; in the kitchens during routine deliveries; in private offices where inmates and staff interacted; and at pre-arranged "stash" locations, like the library, among other locations. The indictment alleges that defendant inmates who had jobs that allowed them to move throughout the housing unit and elsewhere in the prison, commonly referred to as "working men," took orders for contraband from inmates, provided orders to corrupt COs, employees, and contractors, and delivered contraband to inmates.
The indictment alleges that defendant COs had sexual relationships with inmates and exchanged sex for contraband. In addition, these sexual relationships allegedly facilitated smuggling and trafficking relationships between COs and inmates.
Finally, the indictment alleges that between 2005 and 2017, CO Owen Nesmith deprived three inmates of their civil rights by sexually assaulting the inmates. In two cases, the indictment alleges that Nesmith threatened the inmates. Specifically, the indictment alleges that Nesmith threatened that one inmate would be subjected to death and serious bodily injury, and threatened to ensure that another inmate would not receive parole because he would falsely allege that that inmate had assaulted Nesmith. When questioned by law enforcement, the indictment alleges that Nesmith falsely stated that he had never brought drugs into the prison, sold drugs, or had any inappropriate relationships or sexual contact with any inmates while he was at MCIJ.
If convicted, nineteen defendants face a maximum sentence of 20 years in prison for racketeering. Nine defendants face up to 20 years in prison for conspiracy to distribute and possess with intent to distribute drugs; and three defendants up to 20 years in prison for possession with intent to distribute controlled substances. In addition, Nesmith faces a maximum of life in prison for deprivation of rights under color of law for threatening death or serious bodily injury, and one year in prison for the other two counts; and a maximum of five years in prison for making false statements.
MCIJ Indictment Defendants
Correctional Officers/Employees:
Owen Nesmith, Correctional Officer Lieutenant, age 50, of Baltimore;
Patricia McDaniel, Correctional Dietary Officer, age 26, of Baltimore;
Janel Griffin, Correctional Officer, age 40, of Baltimore;
Robert Doggett, Case Manager Employee, age 53, of Baltimore;
Ricky McNeely, Contract Exterminator, age 39 of Baltimore; and
Joseph Nwancha, Contract Nurse, age 39, of Baltimore.
Inmates:
Corey Alston, a/k/a C, age 29;
Jerrard Bazemore, a/k/a Tic, age 34;
Irving Hernandez, a/k/a Irvin, age 25;
Todd Holloway, a/k/a J, age 34;
Schvel Mack, a/k/a Weezy, and L Weezy, age 29;
Larnell Megginson, a/k/a Julio, age 38; and
Tavon Price, a/k/a Tay, age 35.
Facilitators:
Aldon Alston, age 55, of Baltimore;
Ashley Alston, age 28, of Baltimore;
Tyirisha Johnson, age 23, of Baltimore;
Jamia Lawson, a/k/a Mia, age 27, of Baltimore;
Jerrell McNeill, a/k/a Rell, age 35, of Baltimore;
India Parker, age 33, of Parkville, Maryland; and
Lekeah Pendleton, a/k/a Keah, age 40, of Catonsville, Maryland.