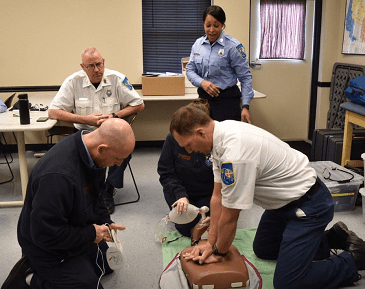 Residents with basic preparedness skills are more likely to handle everyday and large-scale emergencies successfully.
"Neighbors Helping Neighbors" is a program sponsored by the Office of Homeland Security and Emergency Management designed to give residents the information and tools needed to manage "everyday" emergencies, as well as large-scale weather and other major disasters.
The program is offered several times a year at various locations throughout Baltimore County and includes sessions held once a week for five weeks.
The next "Neighbors Helping Neighbors" program will begin on Wednesday, May 1, 2019 and will continue every Wednesday night, 7 to 9 p.m. through May 29, 2019. This program will be held at the White Marsh Volunteer Fire Company (10331 Philadelphia Road, White Marsh, MD 21162).
Topics will include:
• EMS skills, including Hands-Only CPR and "Stop the Bleed" for trauma injuries
• Fire safety and use of extinguishers
• How to assemble first aid and disaster kits
• Calling 911; a tour of the Baltimore County 911 Center and Dispatch is included
• Crime prevention and awareness
• What to do before, during and after weather disasters and other major emergencies
• Community resources
Residents can register for the program by clicking here.
Facebook Comments