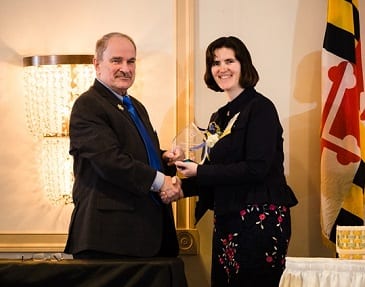 Baltimore, MD – Gina Fugate, a Technology and Engineering teacher at The Maryland School for the Blind, has been named one of the 2019 Northeastern Maryland Technology Council's (NMTC) Visionary Award recipients.
Fugate, a certified teacher of the visually impaired (TVI), and Robotics team coach at MSB since 2015, received the Rising Star Award for "demonstrating, in a bold way, the potential to be an excellent, long-term contributor to building our STEM-educated workforce and advancing technology and innovation," according to the NMTC's award criteria.
The NMTC is Maryland's fast growing technology association, with over 200 members, advocates and supporters, providing access to technology, industry, academic and government leaders in Northeastern Maryland, the Greater Baltimore area and beyond. The NMTC connects technology companies in the region, energetic growing enterprises, government and federal leaders and academic professionals into a collective force to accelerate economic growth, build a STEM-educated workforce and protect national security, by driving technology and innovation in Maryland.
Fugate was nominated for the award for her innovative ideas and advocacy efforts in ensuring accessibility for her students in STEM competitions such as the FIRST Lego League (FLL) robotics tournaments. In order for the students, who are blind or visually impaired, to compete on an equal playing field with other teams, she developed adaptive materials to help make the competitive experience more accessible and helped her students advocate to incorporate Quorum, an open source accessible programming language, which allows students to directly write and manage their own code for the robotics competitions, unlike the inaccessible software program currently being used by FLL.
Fugate received the Visionary Award, along with 11 other recipients from across the state of Maryland, at the NMTC Awards Gala on February 28, 2019. "We are very proud of Gina for being honored with this prestigious award for her work in the education of STEM and for her advocacy efforts to ensure that students with disabilities have equal opportunities in all arenas," said Mr. W. Robert Hair, MSB Superintendent and CEO.
Founded in 1853, The Maryland School for the Blind is a private, statewide resource center providing outreach, educational and residential programs to youth from infancy to age 21 who are blind or visually impaired including those with multiple disabilities. Annually the school serves 56 percent of the 1,700 students identified in Maryland who are blind or visually impaired through its on-campus and outreach programs.