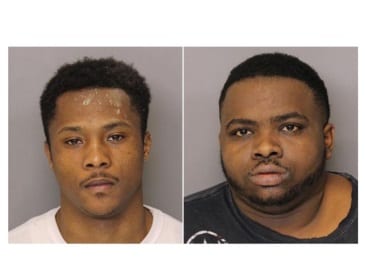 Two individuals are in police custody following a Parkville home invasion, robbery, and assault.
Authorities say a 71-year-old man arrived at his residence in the 2300-block of Wilker Avenue (21234) at around 9 p.m. on Thursday night and noticed his outdoor light was off, which seemed suspicious.
Three men then approached the man as he exited his vehicle. Two of the suspects were armed with guns, according to police.
The men then placed a bag over the victim's head and brought him into his home, where they then assaulted him and poured bleach over his head.
The suspects stole the man's wallet and cell phone, then a 60-year-old male relative who was in the basement called a neighbor who then called police.
When the police arrived, the suspects tried to flee and officers gave chase.
Story continues below
Police arrested one suspect, identified as 20-year-old Kwiesi Matola Alston, in the 2300-block of Putty Hill Avenue (21234). Officers also recovered a gun belonging to Alston, according to WBAL-TV.
Police also captured 19-year-old Dwyane White Jr., who officers say had a gun in his pants.
A third suspect escaped and authorities believe a fourth suspect may have been involved as well.
Alston and White are being held without bond and face attempted murder charges.
Police said they believe this was a targeted incident, as this same home was broken into back in October.
Facebook Comments