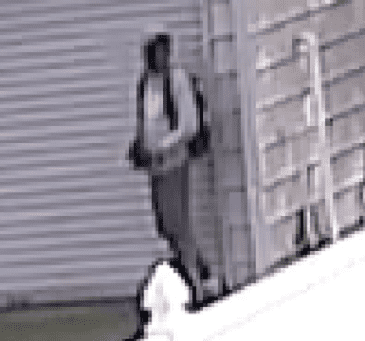 Police in Baltimore County are asking the public for any information that may help identify this burglar who struck a home in the 1600-block of Williams Avenue in Essex (21221) at around 12:30 p.m. Tuesday, October 2nd.
Surveillance video from a neighbor's camera caught the suspect in the victim's yard. One video shows the suspect walking through the back yard, then turning back and attempting to gain access to the victim's garage.
A second video shows the suspect exiting the garage with a sledge hammer he may have used to gain entry to the home through a window, stealing cash and jewelry before leaving through a rear door.
Similar incidents have occurred since early September in the Middleborough area. Homes have typically been burglarized during daytime hours, with windows being the usual mode of entry into the home. Two homes on Hilltop Avenue, one on Windjammer Court, and most recently, this home on Williams Avenue have been the targets of burglaries.
Police are asking residents to keep their eyes open for this suspect or any similarly dressed person walking through neighbors' yards or behaving suspiciously.  If spotted, call 911 immediately.
Anyone with information on this individual is asked to call police at 410-307-2020.
View the burglar in action in the videos below.