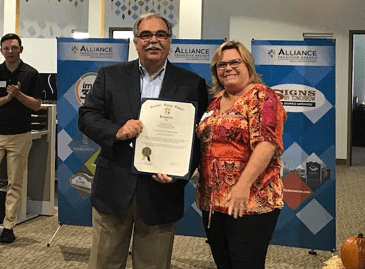 Councilwoman Cathy Bevins on Friday attended the Grand Opening of the new Alliance Franchise Brands Sign & Graphics Division new location on Crossroads Circle in Middle River.
"I could not be happier that another new business is coming to Middle River." Said Councilwoman Cathy Bevins. "So many great high paying jobs have flocked to Rt.43, I am very excited about the future for Alliance franchise Brands and for Middle River, I feel like im going to a ribbon cutting once a week!"
Story continues below
Alliance Franchise Brands, LLC is a world leader in marketing and visual communications.
Independently owned and operated franchises provide national, regional, and local businesses and organizations with a one stop resource for technologically advanced and strategically sound solutions for their graphics communications needs.
Facebook Comments