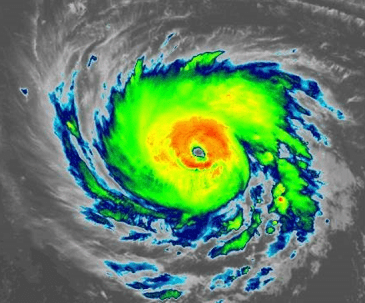 Baltimore County Emergency Management officials are preparing for Hurricane Florence to bring heavy rains and serious inland and/or coastal flooding to the Baltimore area.
The potential for flooding and for trees to topple and bring down power lines is greater because the ground is already saturated from months of above-average rainfall. Residents should prepare now to get along for seven days without power, said Baltimore County Fire Department Division Chief Jay Ringgold, who oversees the Office of Homeland Security and Emergency Management.
"This is a serious, potentially catastrophic storm," Ringgold said. "Don't wait until the last minute to buy supplies and think about how you will get along if the worst happens and power goes out for an extended period. Take steps today to prepare."
Latest from NWS
Local emergency management officials participated Tuesday morning in the National Weather Service's telephone update on the Florence forecast.
Here is the latest from the NWS:
Forecasters are increasingly confident that Florence – now a Category 4 storm – will make landfall in the Carolinas, probably late Thursday. The storm is expected to be at least a Category 3 at landfall, with significant storm surge.
Forecasters are less certain where the storm will track and how fast it will move once it moves inland. As of Tuesday morning, forecasters expect the Baltimore area to feel the first effects from the storm late on Thursday. The NWS believes the storm will stall, dumping heavy rains. The storm's wind speeds, once it moves inland, are difficult to predict. The amount of wind depends on where and how quickly (or slowly) it moves.
Because the storm is expected to stall and produce heavy rains, inland and coastal flooding are major threats throughout the south and the Mid-Atlantic. In some areas, flooding could be historic and catastrophic.
The emergency situation from Hurricane Florence is exacerbated because the ground is already saturated. Trees are expected to fall, especially in areas that experience heavy wind, causing power outages and posing at threat to life and property.
Baltimore County emergency managers will continue to receive regular updates throughout this weather event.
How to Prepare
Officials say every household should prepare for this weather emergency as soon as possible.
"The exact track of a hurricane is difficult to predict the exact track of a hurricane, and we could very well find ourselves affected by dangerous flooding and strong winds later this week," said County Executive Don Mohler. "It is imperative for each of us to think ahead and prepare to provide for the needs of our loved ones, especially the elderly, children and pets."
Residents should consider how they will manage if the power goes out for an extended period.
Story continues below
Steps to take now:
Locate and purchase supplies. Residents need non-perishable food, a manual can opener, medications, supplies for infants and vulnerable adults, pet supplies, flashlights/batteries and a battery-powered radio.
Buy or store extra water – at least a gallon per person, per day, plus extra for pets.
Fully charge all of your electronic devices. If power goes out, use them sparingly to make them last as long as possible.
Get cash. ATMs will not work during a power outage, so visit one now.
Secure boats and outdoor furniture.
Plan where you will evacuate if you live in a flood-prone area and need to move to higher ground.
Assist vulnerable family, neighbors with storm preparations. This is critical; many vulnerable people, including older people cannot prepare by themselves.
The Baltimore County Fire Department and the Office of Homeland Security and Emergency Management have been monitoring this storm for days and preparing for a "worst-case scenario" response. These preparations include:
Inspecting swift-water and high-water rescue equipment; pumps and other apparatus.
Reviewing staffing and operational plans.
Preparing to open and staff the Emergency Operations Center, in case this becomes an emergency requiring a coordinated, multi-agency response.
Contacting our mutual aid partners in case we need additional resources.
Regular updates with National Weather Service regarding the forecast.
Maryland Department of Transportation
As Hurricane Florence moves closer to the east coast, the Maryland Department of Transportation State Highway Administration (MDOT SHA) is deploying maintenance forces throughout the state to begin preparations for the storm and its impacts. MDOT SHA crews will inspect, clean and clear storm water ditches, drains and inlets to ensure adequate drainage.
Crews from MDOT SHA maintenance facilities are also evaluating all emergency response equipment such as high water signs, chain saws, chippers, loaders and grading trucks. Additionally, crews are ensuring that all generators are fully topped off and functional in case of power outages. Generators will keep maintenance shop operational, especially the fuel pumps, to keep crews in continual response mode.
Motorists are encouraged to monitor the weather conditions, and if possible, avoid driving in any hazardous conditions.
"This is a major storm system, and it will likely cause significant damage and disruption to the state highway system," said MDOT SHA Administrator Gregory Slater. "Maryland has received above-normal rainfall throughout summer and the ground is saturated so additional rain is likely to run-off rapidly."
Motorists are reminded to "Turn Around, Don't Drown." A majority of flood-related deaths occur in vehicles. Two feet of rapidly moving water can float a bus and six inches is capable of knocking a person off their feet. Other advice includes:
• Avoid downed or damaged power and transmission lines as these could still be live;
• Be cognizant of fallen trees or tree limbs; and
• Remain alert for wild animals, such as deer, that may flee dangerous areas and cross roadways.
In additional to high-water, the approaching storm could result in scattered power outages. MDOT SHA reminds motorists that if you encounter an intersection where traffic signals are without power, treat all directions of the intersection as a four-way stop.
SHA also advises motorists to stay aware of the forecast and, should heavy rain and high wind begin to affect the area, curtail travel as much as possible.
A message from County Executive Don Mohler encouraging residents to prepare for #HurricaneFlorence with a few safety tips. For info & updates follow Baltimore County Fire Department on Facebook and @BaltCoEmergency on Twitter. @BaltCoFire @BaltCoPolice #BaltCoNews #BaltCoSafe pic.twitter.com/qWuNnZNxW8

— Baltimore County (@BaltCoGov) September 11, 2018
Facebook Comments