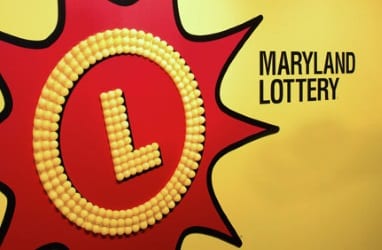 Avid Baltimore Ravens fan Eric Johnson is doing a celebration dance after his winning Ravens X10 scratch-off landed him the game's second $100,000 top prize.
A series of errands put the winning $5 scratch-off in his hand. After a quick trip to an auto store, the Baltimore County resident headed to Paul's Market at 4571 Ridge Road in Nottingham. The 44-year-old purchased a $5 Ravens X10 scratch-off to play later.
"When I got home around lunchtime, I decided I'd scratch my Ravens X10 ticket," he said. Eric typically scratches off the numbers on the instant ticket first to see if they match the winning numbers.
Confusion set in when he saw a matching number over a $100,000 prize.
"My heart sank," he said. "I initially thought that the prize amount on the ticket was a mistake! After I realized I wasn't reading the ticket wrong, that's when I started shaking and called for my wife, who was in the shower at the time."
Joann, who has been married to Eric for 18 years, said she thought he was playing a joke on her.
"When I found out he wasn't joking and I looked at the ticket myself, I think we were both in shock together," she said. "Eric has had an amazingly lucky year."
Advertisement
The Nottingham resident also was randomly selected as one of 30 contestants competing Saturday in the Maryland Lottery's $100,000 Mania Event at the Maryland State Fair. The Maryland Lottery will select the 30th contestant Saturday at the fair through a special drawing. Fairgoers can enter the drawing at the lottery's booth in Exhibition Hall.
The excited pair plans to use a portion of their winnings for their son's education and for a trip to Key West this year.
"We feel truly blessed," said Joann.
The lucky retailer shares in the fun of their win. For selling a winning scratch-off of $100,000, the Maryland Lottery will give Paul's Market at 4571 Ridge Road a $1,000 bonus.
Facebook Comments