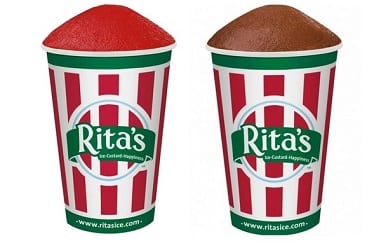 On Wednesday, August 8, Rita's Italian Ice will be celebrating National Frozen Custard Day by offering their award-winning frozen custard for just 99 cents.
The creamy, old-fashioned sidekick to their famous Italian Ice has been a Rita's fan favorite for more than 25 years.
Participating Rita's shops will be offering a promotional size frozen custard in a cup or cone for just $0.99.
Story continues below
On National Frozen Custard Day, guests are encouraged to visit their local Rita's to enjoy the rich and creamy dessert. Guests can enjoy frozen custard anytime on Rita's menu in a variety of ways – layered with Italian Ice in their signature Gelati, blended with toppings in a Blendini, or in a Misto Shake, Rita's refreshing take on a shake. These are just a few ways the brand has twisted their frozen custard into a multitude of sweet treats.
Rita's Frozen Custard is richer and creamier than ice cream, which is a bold claim, but Rita's Italian Ice President and CEO Linda Chadwick stands behind Rita's promise of having the best frozen custard in the business. "On National Frozen Custard Day, we're celebrating the deliciously decadent, award-winning treat that has helped build the Rita's brand. We hope our guests will enjoy visiting our shops for a bit of happiness on August 8th to observe making it halfway to Friday, heading back to school, cooling off from the summer heat or really any reason at all."
Fans of frozen custard can find their nearest Rita's location by visiting www.ritasice.com/locations/.
Facebook Comments