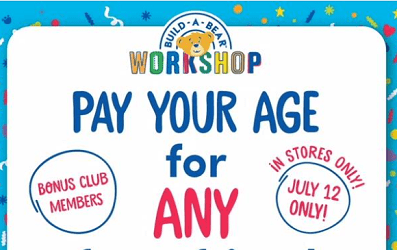 A national promotion got more attention than expected at one local store.
The Build-A-Bear workshop in White Marsh Mall announced on Thursday afternoon that it was shutting down lines for the company's "Pay Your Age" promotion due to overwhelming response.
The chain had been holding its first-ever "Pay Your Age Day" on July 12th, where, for one day only, participants could pay their age for any bear in the store.
Story continues below
At just after 1 p.m., White Marsh Mall posted the following:
Due to the overwhelming response, Build-A-Bear Workshop has closed the lines for the Pay Your Age promotion. We apologize for any inconvenience. Please direct all inquiries to Build-A-Bear Workshop by calling 1-877-789-2327.
The main Build-A-Bear website echoed a similar sentiment:
Per local authorities, we cannot accept additional Guests at our U.S. Build-A-Bear Workshop locations due to crowd and safety concerns. We have closed lines in our U.S. stores. We understand some of our Guests are disappointed and we will reach out directly as soon as possible.
Some U.S. stores were reporting that people were waiting as long as five hours in line to take advantage of the promotion.
Facebook Comments