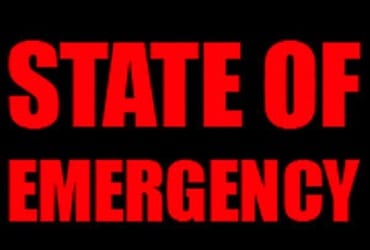 ANNAPOLIS, MD – Governor Larry Hogan on Sunday signed an executive order declaring a State of Emergency in response to heavy rain and severe flooding in Ellicott City and areas across the state of Maryland.
The executive order will allow the state to efficiently coordinate support and provide additional assistance to local jurisdictions experiencing flooding conditions.
"Less than two years ago, the citizens of Howard County and Ellicott City went through a horrific ordeal, and sadly, they are facing a similar emergency today," said Governor Hogan. "Our administration is closely monitoring the situation and working in partnership with local officials, including Howard County Executive Allan Kittleman, to respond to this extreme weather as quickly and efficiently as possible."
"The immediate focus is ensuring everyone is safe and secure. The state will continue to provide all available resources to assist Howard County with their response to this extremely dangerous and ongoing situation. I strongly urge all Marylanders to monitor the weather, heed all warnings, and avoid the affected areas."
Story continues below
The governor announced the emergency declaration while receiving a briefing on the situation from state and local emergency management personnel in Ellicott City, where he was joined by Lt. Governor Boyd Rutherford, County Executive Kittleman, Maryland State Police Superintendent William Pallozzi, and MEMA Executive Director Russ Strickland, as well as local elected officials.
The governor had previously directed MEMA to raise the state's Response Activation Level and send personnel to Howard County, and multiple state agencies are engaged in providing assistance to impacted areas.
Multiple water rescues were reported in the Nottingham area on Sunday, including a rescue in the Seven Courts community and a rescue at Gunpowder Falls State Park.  A portion of Belair Road was also closed on Sunday due to flooding.
Facebook Comments