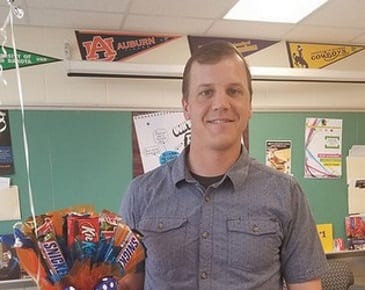 TOWSON – On Friday, May 11, three school counselors and one principal received news that they had been chosen as the Baltimore County School Counselors of the Year and Advocate of the Year.
The honorees, selected by the Baltimore County Association for Counseling and Development, are:
Elementary School Counselor of the Year – Brandon Menikheim, school counselor, Lyons Mill Elementary School
Middle School Counselor of the Year – Stephanie Walsh, school counseling department chair, Catonsville Middle School
High School Counselor of the Year – Zachary Clark, school counseling department chair, Overlea High School
Advocate of the Year (honored for supporting school counselors) – Renee Jenkins, principal, Deer Park Elementary School
At Lyons Mill Elementary, Menikheim works to support the development of pro-social skills in his students through a variety of programs. He writes and presents weekly "Do Something Good" journals and announcements to all of his students. He created a "Sense of Belonging" focus group to help students feel more connected and to help foster positive school climate. He has also introduced student and parent presentations at Lyons Mills to help increase interest in magnet programs and career and technology education programs.
Walsh, at Catonsville Middle School, has made an impression on her students, through her organization of a bereavement group for children who have experienced the death of a loved one. She is part of a team that has developed a collaborative program with Catonsville Elementary School, providing Grade 8 mentors for their Grades 4 and 5 students.
In his first year as department chair, Clark has quickly instituted new programs to support student success at Overlea High School. This year, he set and achieved the goal of increasing college application and acceptance rates for the graduating Class of 2018. His new college readiness program includes classroom lessons, individual counseling sessions, workshops, fairs, college visits, and student access to a college and career resource room. This year, senior college acceptances have more than doubled.
Story continues below
In addition to the winners, the association is also recognizing 1st and 2nd runners-up for each counselor award. They are:
Elementary Counselors
1st Runner-up: Karen Knauer, Sandalwood Elementary School
2nd Runner-up: Lori Counsell, Mays Chapel Elementary School
Middle Counselors
1st Runner-up: Venetia Banks, Holabird Middle School
2nd Runner-up: Scott Saffron, Woodlawn Middle School
High Counselors
1st Runner-up: Susan Slater, Hereford High School
2nd Runner-up: Debra James, Eastern Technical High School
Facebook Comments